AMD and WUR Partner to Launch Delta Talks, a Webinar Series
From

CGIAR Initiative on Asian Mega-Deltas

Published on

26.07.23

Impact Area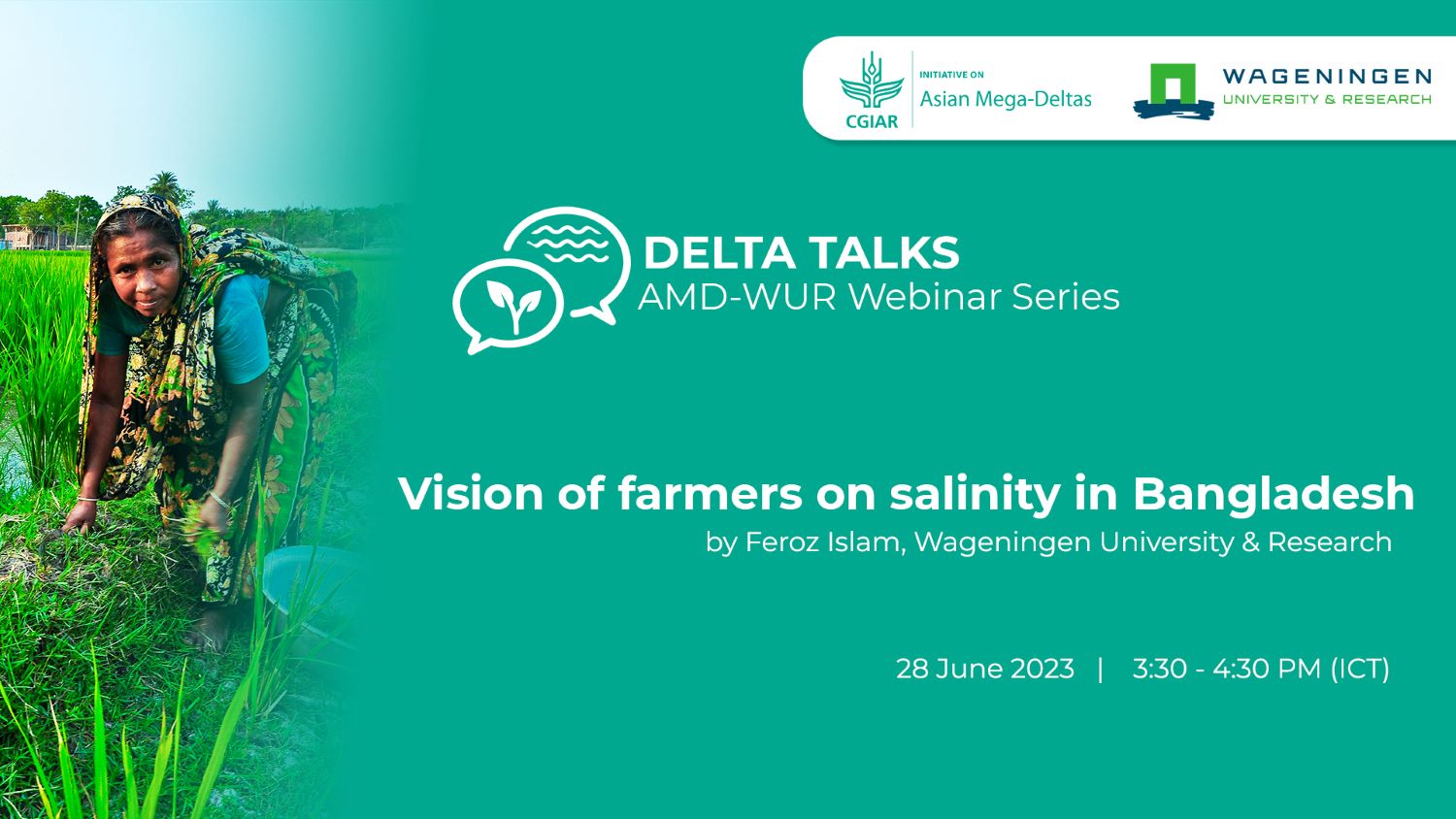 The CGIAR Initiative on Asian Mega-Deltas (AMD) and Wageningen University & Research (WUR) collaborated to launch the Delta Talks, a webinar series focusing on the development and results of research activities on securing food systems and strengthening climate resilience in the Asian mega-deltas.
Dr. Bjoern Ole Sander, lead of AMD and senior scientist at the International Rice Research Institute (IRRI), said that there is "a need for a platform for joint exchange of research results or ongoing work between AMD and WUR." He shared that the Delta Talks was conceptualized to create a venue for AMD and WUR researchers to have discussions on a more scientific and on-the-ground level.

In the introduction of the presentation, Dr. Catharien Terwisscha van Scheltinga, senior researcher and head of research on water management in deltas at WUR, emphasized that the Delta Talks will provide a means for both AMD and WUR to learn from each other, particularly in the areas of food security and water management. She highlighted that aside from presenting research results, the Delta Talks also caters to works in progress and emerging outcomes.
For the first Delta Talks, Mr. Md Feroz Islam, researcher on water and food at WUR, presented on the vision of farmers on salinity in Bangladesh. Specifically, his presentation talked about the farmers' perception on salinity, now and in the future, and the farmers' transition pathways towards a sustainable future. Mr. Islam shared that farmers in three different salinity zones have diverse perceptions of the current and future impacts of salinity, which have varying implications to crop production, livestock, aquaculture, and domestic water supplies.
The study found that farmers, particularly in the medium salinity zone, are aware that the current salinity levels will not go back to freshwater levels. As a result, farmers are looking for adaptation strategies to cope with the changing conditions, like adaptive cropping patterns.

Mr. Islam concluded by calling for stronger collaboration between government agencies, research institutes, and other related agencies to inform farmers about adaptation measures. He believes that this collaboration is essential to achieving sustainable agriculture for the future.
For the follow-up and other related activities, Mr. Islam shared that the research team is working on a sub-seasonal to seasonal forecasting project that provides agro-climatic bulletins to farmers. They are also conducting a research on trade-offs and synergies in the food system and developing a tool to see how different indicators impact each other. Aside from working on salinity hotspot identification globally and in Bangladesh, Mr. Islam said that the work on farmers' perception on salinity will be continuing and they want to link the research to CGIAR results, including AMD work.
To learn more about the topic, watch the full session: