AfricaRice launches new bilingual corporate website
From
Published on

22.05.20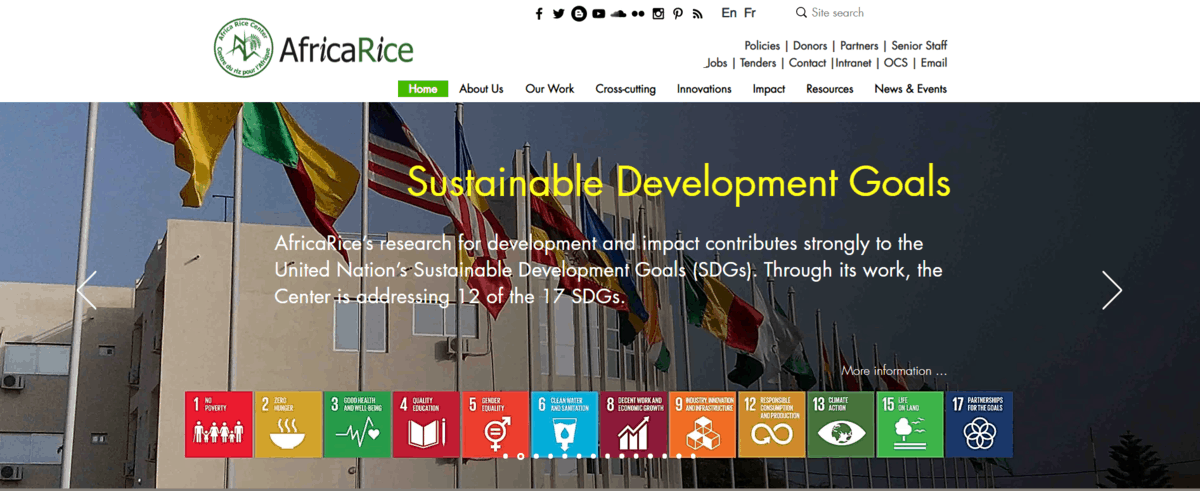 Abidjan, Côte d'Ivoire, 22 May 2020 – In honor of the International Day for Biological Diversity (22 May), the Africa Rice Center (AfricaRice)  is delighted to announce the launch of its new website (www.africarice.org)with a responsive and streamlined design, which is simple to use and navigate. Users can opt between English and French, and easily access updated information on key topics, initiatives and innovations relating to rice-based food systems in Africa.
AfricaRice is a pan-African Center of Excellence for rice research, development and capacity building. It contributes to reducing poverty, achieving food and nutrition security and improving livelihoods of farmers and other rice value-chain actors in Africa by increasing the productivity and profitability of rice-based agri-food systems, while ensuring the sustainability of natural resources.
The date of the launch was chosen to coincide with the International Day for Biological Diversity as the new website puts the spotlight on AfricaRice's commitment to achieving the United Nations Sustainable Development Goals (SDGs) through its work. Biodiversity, which is a key factor in making our food system more sustainable, underpins many of the SDGs.
AfricaRice has been at the forefront of international efforts to collect and conserve rice genetic resources in Africa. In February 2020, the Center inaugurated the Rice Biodiversity Center for Africa (RBCA). A major component of the RBCA is AfricaRice's new genebank, which holds the largest collection of African rice in the world and the largest rice collection in Africa.
Information on the genebank as well as a wealth of relevant resources, including scientific publications, databases and success stories, are shared on the AfricaRice website. Stakeholders, partners and interested users are invited to explore the Center's activities and achievements through interlinked themes.
The new features on the website include information relating to research on cross-cutting global issues, such as gender, climate change, nutrition and youth employment, among others. Rice innovations for Africa developed with partners are prominently featured, including tools, technologies, agricultural equipment, models and apps. A new section on impact of AfricaRice research in Africa is presented.
"Our website is a critical component of our communications strategy," stated AfricaRice Director General Dr Harold Roy-Macauley. "We look forward to keeping you updated on our exciting and impactful work through this new redesigned platform, which serves as a 'front door' to our Center for many of our partners."