AfricaRice Agronomist-Consultant wins 2022 IFA Emerging Scholar Award
From
Published on

11.11.22

Impact Area
Funders

Bill and Melinda Gates Foundation, EU Commission, Japan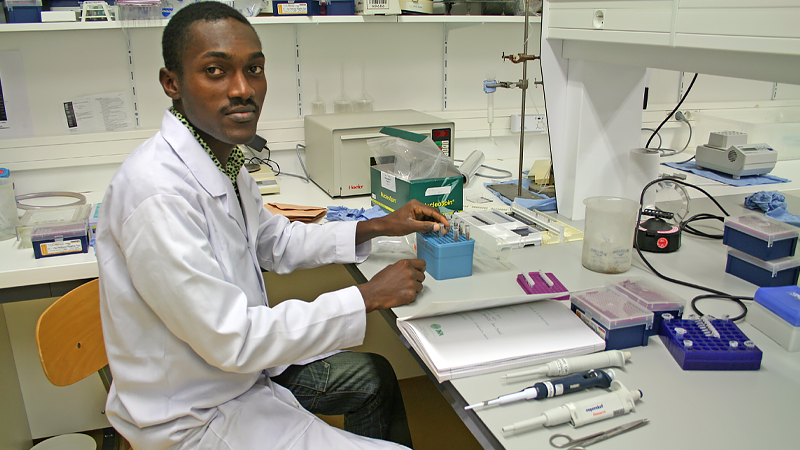 Jean-Martial Johnson, a trailblazing young researcher who supports the Sustainable Enhancement Productivity Program at AfricaRice relating to its work for the CGIAR Excellence in Agronomy Initiative, has been named joint winner of the 2022 International Fertilizer Association (IFA) Emerging Scholar Award.
Congratulating Johnson, IFA stated that an independent Scientific Panel on Responsible Plant Nutrition selected him for his "outstanding research." The Emerging Scholar Award category, under the IFA Science Awards for excellence in plant nutrition science and innovation for sustainable development, recognizes young scientists who have made significant research contributions that have potential for impact.
At AfricaRice, Johnson has been actively involved in data-driven agronomy, particularly relating to the development and analysis of datasets of soil fertility properties and nutrient concentration in rice plants in more than 20 countries in sub-Saharan Africa (SSA). This work has supported the development of agronomic innovations and will guide interventions for the sustainable intensification of rice production in the region.
For example, Johnson's research has contributed to the development of a Soil Information System of Africa at 30 m resolution that aims at supporting many applications and the fine-tuning of RiceAdvice, an Android-based decision-support mobile application that provides customized, field-level recommendations for fertilizer management.
"I am pleased and honored to receive this prestigious award," said Johnson. He thanked his supervisors and colleagues at AfricaRice and especially his mentor, Kazuki Saito, AfricaRice Agronomist and Visiting Fellow at the Japan International Research Center for Agricultural Sciences (JIRCAS), for his strong support and encouragement.
Praising Johnson, Saito remarked, "We are immensely proud of his achievements and very happy that his hard work and dedication have been richly rewarded. I do not doubt that this will be the first of many proud moments in his career."
In 2021, Johnson was selected for a One Planet Fellowship, an initiative that targets young African researchers working on climate change. The initiative is supported by the Bill & Melinda Gates Foundation (BMGF), the European Union (EU) and the International Development Research Centre (IDRC), among others.