A Conversation with Dr. Mahalingam Govindaraj, the 2022 Borlaug Field Research Award Recipient
From

HarvestPlus

Published on

19.09.22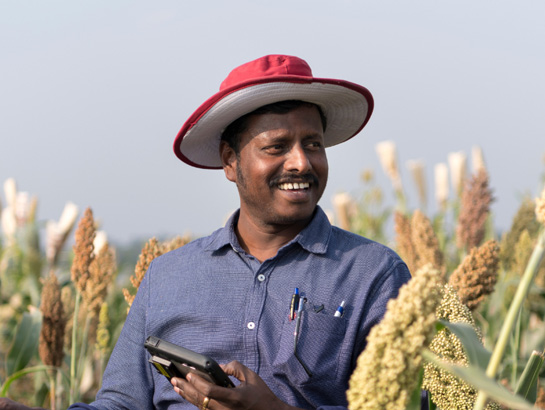 The World Food Prize Foundation has announced that Dr. Mahalingam Govindaraj, a Senior Scientist for Crop Development at the CGIAR's HarvestPlus program based at the Alliance of Bioversity International and CIAT in India, will receive the 2022 Norman E. Borlaug Award for Field Research and Application,. The Foundation said Govindaraj is being recognized for his outstanding leadership in mainstreaming biofortified crops, particularly iron pearl millet (IPM), in India and Africa. The award is endowed by the Rockefeller Foundation.
For more than a decade, he has directed the development and dissemination of high-yielding, high-iron and high-zinc pearl millet varieties that have contributed to better nutrition for thousands of farmers and their communities. As of the end of 2021, nearly 220,000 smallholder farming households in India were growing IPM.
Development of IPM was funded through the CGIAR's HarvestPlus program and undertaken with research partners at the International Crops Research Institute for the Semi-Arid Tropics (ICRISAT), where Govindaraj was employed between 2011 and 2021. Govindaraj is now part of the HarvestPlus team that leads a partner-driven delivery strategy for IPM, zinc wheat, and other biofortified crops around the world. Strong Indian and African government endorsement is helping to set the stage for rapid IPM scaling in coming years.
Govindaraj, who is based at the Alliance of Bioversity International and CIAT in India, spoke with Peter Goldstein, head of strategic communications at HarvestPlus, to discuss the why, how, and future of IPM, and his role in developing varieties of this nutritious staple crop.