"Scaling Sustainable Agronomy Solutions: Insights from the CGIAR Excellence in Agronomy Initiative Workshop in Northern Ghana"
From

Sehlule Muzata

Published on

25.10.23

Impact Area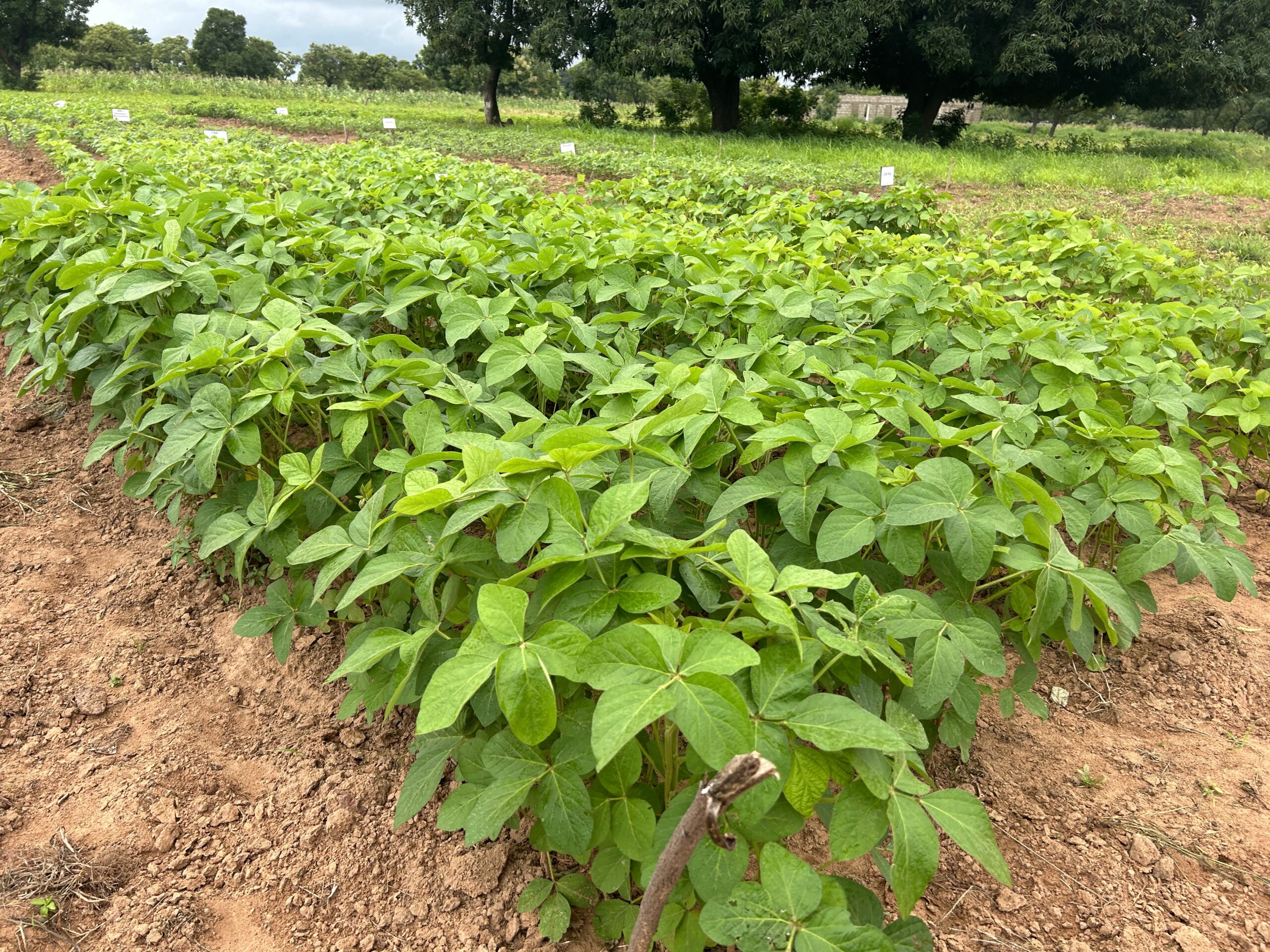 Authors: Lukas Behaim, Mandlenkosi Nkomo, Edwin Kangethe, Thompson Ogunsanmi, and Murat Sartas
At the heart of global efforts to achieve Sustainable Development Goals (SDGs) lies the imperative to create meaningful, large-scale impacts through agronomic innovations. To accomplish this, it is essential to understand the early stages of technology adoption, engage with public and private scaling partners, set realistic scaling goals, and foster localized strategies and partnerships. In pursuit of these objectives, the CGIAR Excellence in Agronomy Initiative conducted a three-day innovation packaging workshop in Tamale, Ghana. This workshop, held earlier this month, brought together local demand and scaling partners and value chain actors from northern Ghana's maize and soybean industries. The primary objective was to identify bottlenecks hindering the scaling of core agronomic innovations and explore potential remedies.
Mandlenkosi Nkomo, Chief Growth Officer for EiA, and Edwin Kangethe, a research officer and scaling expert for CGIAR, played pivotal roles as hosts and facilitators of the workshop.
The workshop featured partners from two distinct Use Cases within EiA, each focusing on innovative agronomic solutions. One Use Case involved the development of a cropping calendar and digital agronomic advisory services coupled with crop insurance for smallholder maize producers. Participants evaluated these core innovations' readiness and adoption levels, identified complementary solutions, and voiced concerns about market trends and industry challenges. Notably, they highlighted missing value chain actors who should be engaged in future discussions.
Degas Ghana Ltd., with support from CGIAR centers ABC, IITA, and ICRISAT, will provide cropping advisories, inputs, and training. At the same time, the Ghana Agricultural Insurance Pool (GAIP) will offer crop insurance products. By 2024, the partners aim to reach up to 15,000 smallholder farmers, focusing on gender and youth-responsive agronomic solutions, ultimately driving agronomic gains in Ghana.


The second Use Case centers on maize and soybean value chains, involving the demand partner Esoko. In collaboration with local service partners, this private digital extension advisory company aspires to develop a site-specific digital agronomy advisory service for approximately 100,000 smallholder farmers and value chain actors in northern Ghana. The aim is to enhance productivity and profitability in maize and soybean farming.
A significant portion of the workshop was dedicated to partnership discussions, emphasizing the importance of collaboration in achieving scalable impact. Participants drew insights from the successful experience of AKILIMO in Nigeria and Tanzania, highlighting the role of trust-building and innovative approaches in partnerships.
The workshop served as a valuable platform to identify bottlenecks relevant to agronomic products and prioritize them. It enabled participants to distinguish between issues they could address immediately and those requiring further attention, particularly regarding climate change. A committee was formed post-workshop to address innovation readiness, use, and scaling bottlenecks, enhancing partnership management.
The workshop spotlighted underutilized core innovations and paved the way for creating an oversight committee responsible for coordinating scaling advisories for maize and soybeans. This committee, comprising representatives from various value chain actors, will drive platform meetings, facilitate activities, develop strategic value chain documents and export strategies, mobilize additional stakeholders, and launch a formal platform representing northern Ghana's entire maize and soybean sector.
The workshop also underscored the need for climate-smart agriculture (CSA) practices to reduce production costs, combat drought stress, and enhance soil health for maize and soy. Participants stressed the importance of user-friendly, location-specific digital advisory services that align with local technology usage, habits, knowledge, and languages. Additionally, they called for increased access to financing and agricultural inputs.
In summary, the workshop in Tamale was a significant step in identifying innovation packages and assessing the scaling readiness of agronomic solutions in northern Ghana's maize and soybean value chains. Future efforts will focus on engaging youth and female representation from the value chains, ensuring that agronomic services remain user-centric and achieve informed consent. These insights are invaluable in EiA's mission to drive sustainable agronomic solutions at scale.
About the CGIAR Excellence in Agronomy Initiative
The CGIAR Excellence in Agronomy Initiative was launched in 2020 to improve outcomes for smallholder farmers amidst climate change. EiA is supported by the CGIAR Big Data Platform and will combine big data analytics, new sensing technologies, geospatial decision tools, and farming systems research to come up with scalable agronomic innovations for agricultural development. The initiative is not only responding to demand from the public and private sector but will also help increase efficiencies through stronger collaboration and cross-learning among CGIAR centers and within the broader agronomy R&D ecosystem. More information can be found on the CGIAR Excellence in Agronomy website. Follow the CGIAR Excellence in Agronomy (EiA) Initiative on Facebook, LinkedIn, and Twitter, for updates and information.
CGIAR Excellence in Agronomy Initiative