150 Farmer Promoters trained and empowered with a digital tool for BXW surveillance and control in Rwanda
From
Published on

13.12.21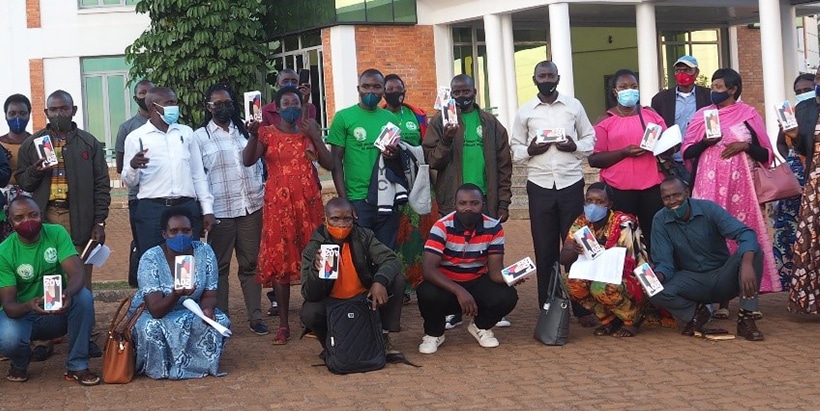 "It was not easy to identify BXW symptoms on a banana plant. We confused it with fusarium wilt or any other banana disease that shows similar symptoms like wilting of leaves and rotting," says Etienne Hakizimana, a Farmer Promoter from Rusizi District, Western Province. Hakizimana is one of the Scaling Champions, working with the ICT4BXW project to scale digital tools such as the BXW App and non-digital tools, mainly USSD, SMS, and chatbot, to curb the Banana Xanthomonas Wilt (BXW) disease in banana plantations in Rwanda.
He describes BXW as a threat to banana farming and productivity since its first occurrence in his banana fields. He highlights that the BXW App is an adequate solution to curb BXW disease and help improve banana farming.
A recent survey by Viamo, one of the ICT4BXW project partners, demonstrates that more than 89% of banana farmers find BXW disease the most devastating disease affecting banana production in Rwanda. Moreover, 87% of the banana farmers who contributed to the survey agree that digital tools can help farmers increase banana productivity.
The ICT4BXW Project Team, co-led by IITA and Rwanda Agriculture and Animal Resource Development Board (RAB), introduced digital tools to mitigate Banana Xanthomonas Wilt (BXW) disease—the most devastating disease for banana plants in Rwanda.