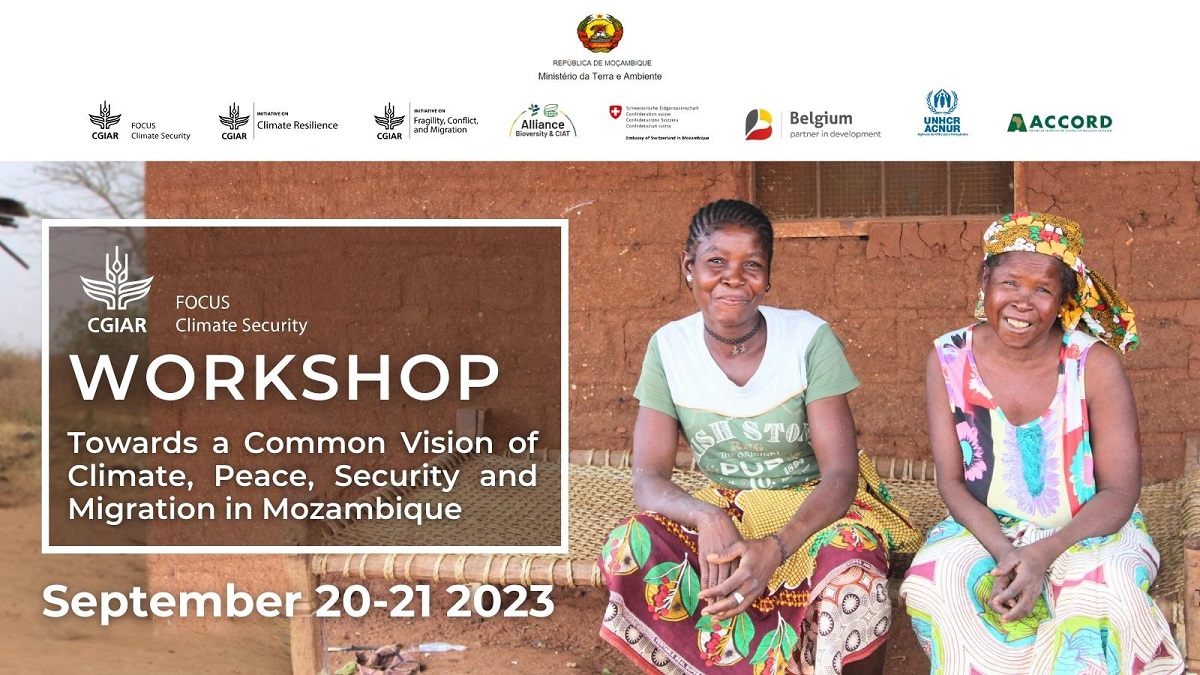 Workshop: Towards a Common Vision of Climate, Peace, and Security in Mozambique
Date

20.09.23 > 21.09.23

Time

07:00 am > 02:00 pm

UTC-11:00
As the impacts of climate change become clearer, the consequences for peace and security have become a key concern for policymakers and practitioners. The adverse impacts of climate variability and extremes, and environmental degradation on climate-sensitive, agriculture-based societies can exacerbate the causes and effects of conflict and undermine efforts to build and maintain peace. Notably, through compounding competition over natural resources, diminishing livelihoods, triggering food price shocks, and forcibly displacing communities.
How can we develop a comprehensive and integrated approach to addressing the complex challenges of climate change, displacement, fragility, and peace and security in Mozambique?
The CGIAR FOCUS Climate Security team at the Alliance of Bioversity International and CIAT, under the OneCGIAR initiative on Climate Resilience (ClimBer) and in collaboration with the OneCGIAR initiative on Fragility, Conflict and Migration (FCM), the Mozambique Ministry of Land and the Environment, the Belgian Embassy, the Swiss Embassy, the United Nations High Commissioner for Refugees (UNHCR) in Mozambique, and the African Center for the Constructive Resolution of Disputes (ACCORD) are convening a two-day, national-level workshop in Maputo, on the 20th and 21st of September 2023.
The workshop aims to achieve the following;
To generate knowledge and facilitate learning on the possible ways in which the impacts of climate change can affect conflict risks and outcomes, as well as undermine efforts to build and maintain peace in Mozambique, with a specific focus on displacement experiences and outcomes in receiving areas.  

To promote cross-fertilization of expertise and identify novel and more integrated measures and strategies to address the compounding challenges of conflict, climate change and displacement in parallel and to foster durable solutions by bringing together key governmental and non-governmental stakeholders working across the Humanitarian-Development-Peace (HDP) nexus.

To create a space for multistakeholder engagement and dialogue for building integrated capacities for mainstreaming a climate, peace and security lens into policy and programming work.  
The workshop will target approximately forty national and international stakeholders working across the Humanitarian-Development-Peace (HDP) nexus. This includes but is not limited to representatives from the ministries and government, international organizations, national and international research community, and donors, as well as civil society and community-based organizations in focus geographies (producer groups, refugee rights organizations, CBNRM schemes, etc.)
Follow us on social media for more updates: Twitter  | LinkedIn