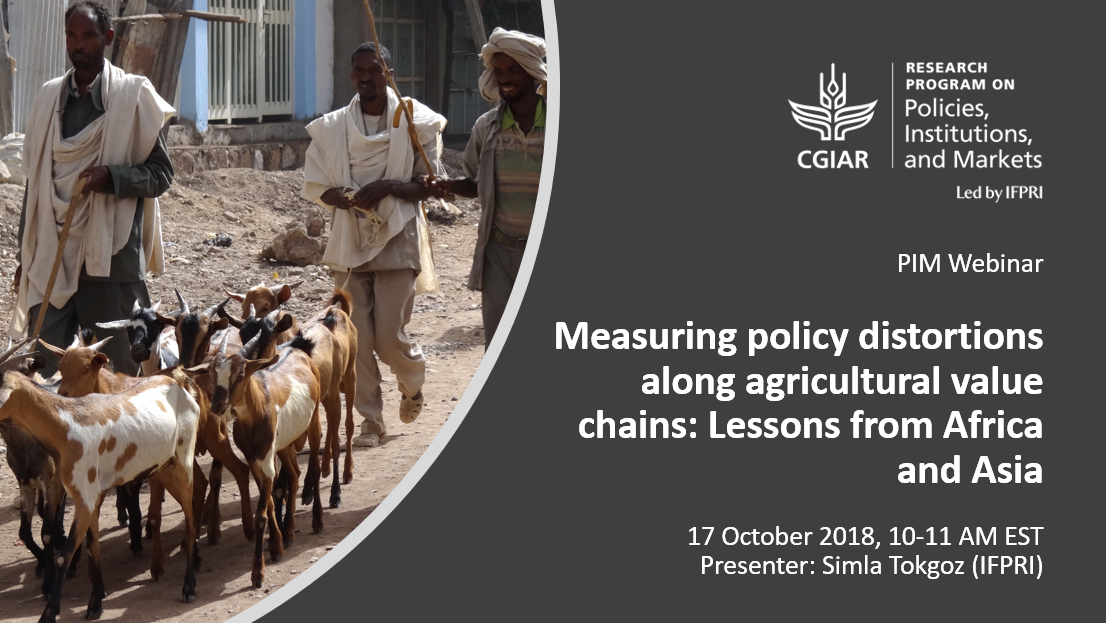 [WEBINAR] Measuring policy distortions along agricultural value chains: Lessons from Africa and Asia
Begin

17.10.18

End

17.10.18

Location

Virtual

Challenges
When: 17 October 2018, 10-11 am EST
Presenter: Simla Tokgoz, International Food Policy Research Institute (IFPRI)
The global agricultural sector is undergoing a transformation, with a rapid expansion of trade in processed agricultural commodities. With this transformation comes expanded interest in how agricultural value chains can aid rural development. This requires a better understanding of how policies affect price transmission and incentives for producers and consumers along the value chain of relevant agricultural commodities.
Policy distortions to agricultural incentives can affect different value chain actors in different ways depending on how they are implemented. For example, an export tax may help domestic maize consumers by decreasing the price of maize and increasing the availability of supply in the domestic market, but such a policy may hurt smallholder producers by decreasing their profit margins.
It is important to understand how distortions to agricultural incentives affect the entire value chain, not just at the level of farmgate prices of individual commodities. By gaining this understanding, policy makers can design more effective policies and minimize unintended consequences for value chain actors.
In this webinar, we will share new research findings on the analysis of policy distortions to agricultural incentives along selected value chains in four countries: Ethiopia, India, Nigeria, and Tanzania. In these studies, we measure agricultural distortions at different nodes of the value chain to understand the relative roles of market structure and policy interventions. The studies, supported by the Policies, Institutions, and Markets CGIAR Research Program (PIM), focus on small ruminants value chains in Ethiopia, maize and groundnut value chains in Tanzania, palm oil and cacao value chains in Nigeria, and oilseed and sugar-molasses-ethanol value chains in India. The studies show that domestic and trade policies generally have overlapping or opposed outcomes, with important implications for smallholder farmers. The value chains included in the four studies remain underdeveloped in terms of processing of raw commodities and trade of the processed outputs. Policies that target development of agricultural value chains would benefit both smallholder farmers and consumers more compared to policies that target only one segment of the value chain.