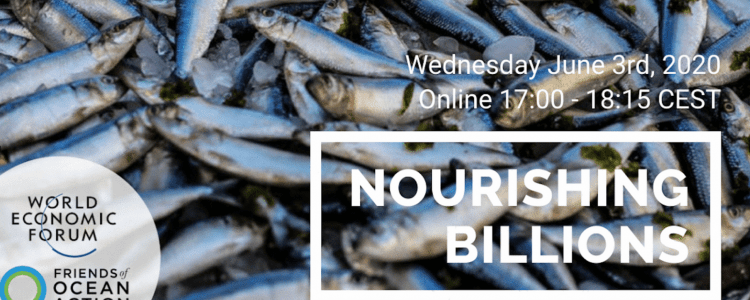 Virtual Ocean Dialogues: Nourishing Billions
Date

03.06.20 > 04.06.20

Location

Virtual
The World Economic Forum and the Friends of Ocean Action hosted the the "Nourishing Billions" Dialogue as part of the Virtual Ocean Dialogues from 1-5 June 2020.
Date: Friday-Saturday, 3-4 June 2020
Time: 23:00 PM -00:15 AM (UTC 8+)
Click here to watch the event recording
The "Nourishing Billions" Dialogue featured a panel of experts, including Shakuntala Thilsted, WorldFish's Global Research Leader for Value Chains, Rosamond Naylor, Professor and Founding Director of Center on Food Security and the Environment at Stanford University, Auden Lem, Deputy Director of the Policy and Economic Division, FAO Fisheries and Aquaculture and Giles Bolton, Responsible Sourcing Director, Tesco.
This session was facilitated by Special Representative of the UN Secretary-General for Food Security and Nutrition, David Nabarro.
Context of the event: 
With an opening video address from Sheikh Hasina, Prime Minister, Government of the People's Republic of Bangladesh and Dongyu Qu, Director-General of the Food and Agriculture Organization (FAO).
Around a billion people rely on fish as their main source of animal proteins while many others also gain nutritional benefit from fish and other aquatic foods such as seaweed, algae and shellfish. Meanwhile, approximately 10-12% of the world's population rely on fish for their livelihoods, including fishers and aquaculture workers and their dependents. Yet all of this is under considerable threat with widespread overfishing, fish stocks at critical levels and the uncertain impacts of climate change. As demand grows, an even greater strain will be placed on ocean food systems.
On top of this, much progress is still to be made to address socio-economic challenges within aquatic food value chains, the impacts of which are often felt most by poor and vulnerable communities. The good news is that a healthy and regenerative Ocean, relying on carefully managed fishing and sustainable aquaculture, could have the potential to produce six times more food than it does today while, at the same time, creating sustainable economic growth and jobs.
This virtual, interactive session provided an overview of why aquatic food is so important in nourishing billions of people. It showcased solutions that are being developed to overcome the challenges of meeting nutritional needs from aquatic sources in a sustainable, ethical and equitable way, with an ending speech by Agnes Matilda Kalibata, President of Alliance for a Green Revolution in Africa (AGRA).