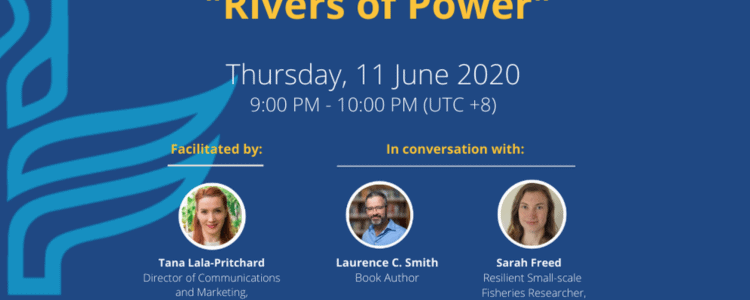 Virtual Book Launch: Rivers of Power
Date

11.06.20

Location

Virtual
A Fish Talk as part of the launch of Laurence C. Smith's book "Rivers of Powers," in conversation with Resilient Small-scale Fisheries Researcher, Sarah Freed, and Director of Communications and Marketing, Tana Lala-Pritchard.
Date: Thursday, 11 June 2020 from
Time: 21:00 PM – 22:00 PM (UTC +8)
Click here to watch the event recording
Context of the book:
Rivers of Power offers both a rich historical overview and future-forward approach. How will environmental issues like flooding and sea-level rise affect the way we inhabit an increasingly uninhabitable planet—and what opportunities for innovative collaboration and problem-solving will they present? Laurence C. Smith described his experience in capturing stories of fish conservation, climate change resilience and sustainable fisheries practices of communities around the Mekong river basin.
About Laurence C. Smith:
Laurence C. Smith was a professor in the UCLA Department of Geography from 1996-2019 and served as Department Chair from 2013-2017.  He also held a joint appointment in the Department of Earth, Planetary, and Space Sciences. Effective July 2019, he became the John Atwater and Diana Nelson University Professor of Environmental Studies and Professor of Earth, Environmental and Planetary Sciences at Brown University, and emeritus professor at UCLA.  His research interests include the Arctic, water resources, and satellite remote sensing technologies. He has published over 100 peer-reviewed journal articles, essays and books including in the journals Science, Nature, and PNAS, and won more than $9M in research funding from the National Science Foundation and NASA. In 2006-2007, he was named a Guggenheim Fellow by the John S. Guggenheim Foundation and in 2007 and 2014, his work appeared prominently in 4th and 5th Assessment Reports of the United Nations' Intergovernmental Panel on Climate Change (IPCC).  He has assisted the National Academy of Sciences with a major report on abrupt climate changes, NASA with a new satellite mission to monitor global water resources, and the World Economic Forum with issues of Arctic development. In 2015, he was elected Fellow of the American Geophysical Union (AGU). He frequently gives keynote speeches. In 2012, 2014, 2016 was an invited speaker at the World Economic Forum in Davos.