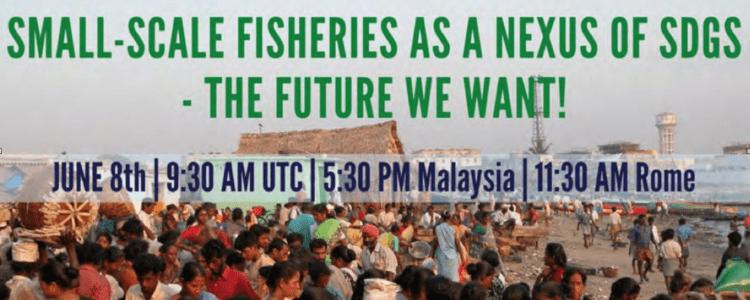 Small is Bountiful 24-Hour Event: Small-Scale Fisheries As A Nexus Of SDGs – The Future We Want
Date

08.06.20

Location

Virtual
A live webinar on "Small-Scale Fisheries As A Nexus Of SDGs – The Future We Want" as part of the Small is bountiful series of webinars panel on 8 June.
Date: Monday, 8 June 2020
Time: 17:30 PM (UTC+8)
Lead organizations: WorldFish, OFI/Memorial University
Supporting organizations: PLAAS, University of Aveiro Working
Click here to watch the event recording
The panel discussion focussed on the overall vision of SDGs, "leave no one behind," posing questions about the a series of challenges in achieving it, such as how to deal with the marginalized groups and how to maintain and enhance contribution of small-scale fisheries in providing food, income, nutrition, wellbeing services to many millions of people globally.
The session examined common challenges or solutions of sustainable and equitable development experienced in regions considered to have effective governance, and explore a comprehensive vision for sustainable development, one which may create co-benefits or trade-offs with other goals.
Key discussion points:
Learning from agricultural systems: SSF sector can learn from agricultural systems on ways to enable and disenable small-holders – there are a lot of commonalities. Fixing the system to enable progress on SDG 1 (reducing poverty), 2 (zero hunger) and 5 (gender equality) is imperative;
Achieving SDGs through structural changes: Priorities should be given to addressing social norms and masculinity, supporting women's leadership, changing the structures, and improving access and control of resources and income. The SDGs will not be achieved by focusing on one woman at a time—the structures need to change; and
Shared responsibility: SIDS are extremely vulnerable to the growing impacts of climate change. There is a need for global responsibility—more collaboration at national, regional, international levels to ensure that SSF livelihoods in SIDS are secured and sustainable. Costs of adaptation need to be shared between communities and the state, specifically in terms of SDG 13 on climate action.
Some take-home messages:
A complex process requires holistic approach: achieving the SDGs is a complex process, as the goals are interlinked, in turn creating synergies and trade-offs.
Inclusivity is a must: often, there's an assumption that creating economic growth (SDG 8) will positively contribute to reducing poverty and zero hunger (SDGs 1 and 2). Given the huge number of people involved in the agricultural and SSF sectors, getting the growth in these sectors right could lead to getting a lot of things right. But if the growth isn't equitable or inclusive, reducing inequality (SDG 10) will be addressed. Thus, everyone must work in an inclusive way, so no one is left behind;
Changing the status quo: fish seems to receive less attention from policymakers and the development sector than other foods, especially staple foods. Discussions on food systems must change to look at consumers first, instead of starting with production systems. Also, multi-sectoral approach is needed; this entails reaching out beyond fisheries stakeholders, and engaging with those funding and working on nutrition, health, education and emergency responses.