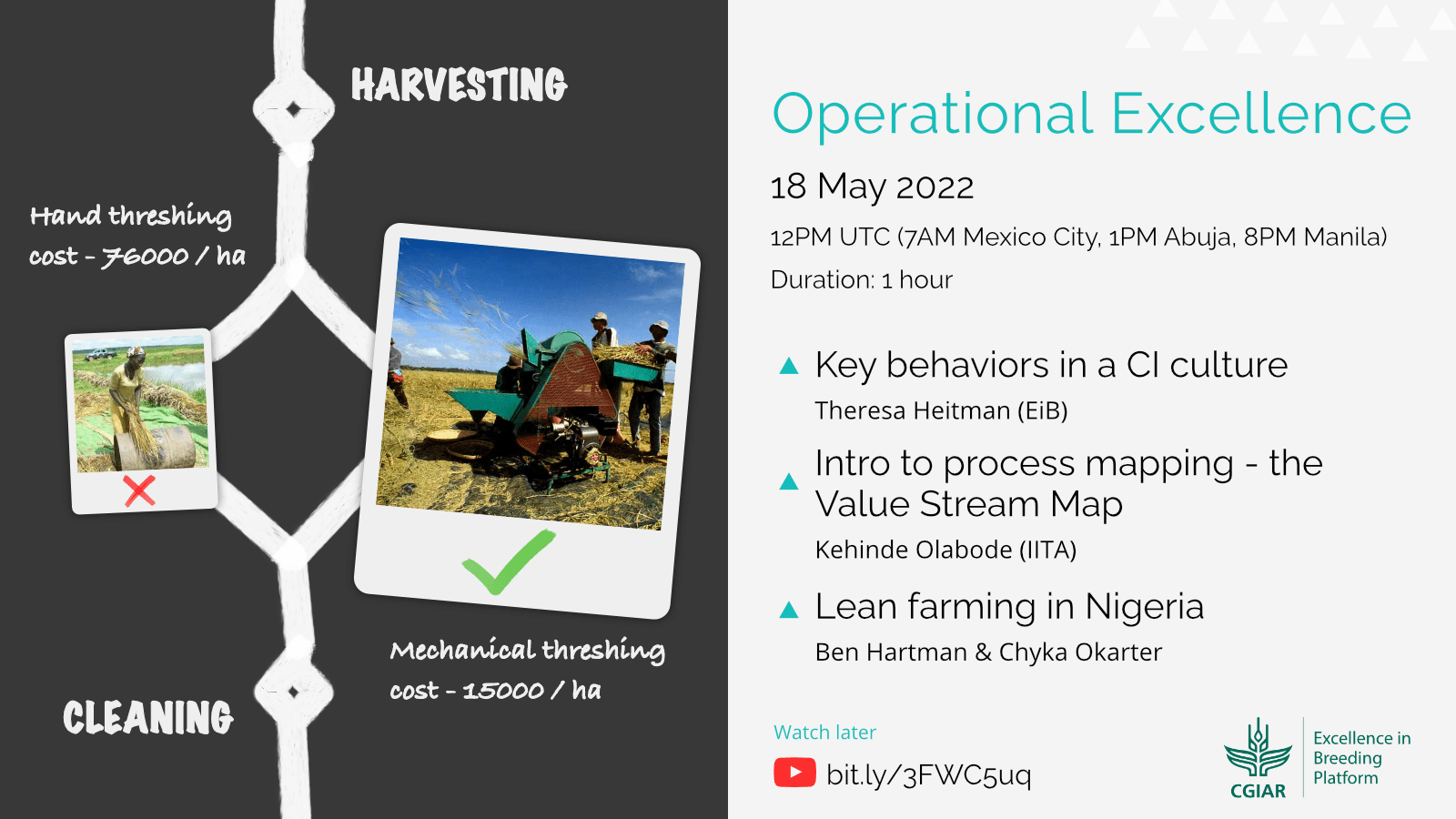 Operational Excellence Webinar: Process mapping and Lean farming in Nigeria
Date

18.05.22

Time

12:00 pm > 01:00 pm
Duration: 1 hour
This webinar is one of our monthly Operational Excellence Webinars to support and promote a continuous improvement culture. The webinar begins with a quick review of some behaviors that exist in a continuous improvement culture. Kehinde will lead a session on process mapping that will feature the value stream map.Ben Hartman (Clay Bottom Farms), Chyka Okarter (USAID Nigeria FtF Agricultural Extension & Advisory Services Activity) and Jean-Pierre Rousseau (Winrock International) will present their work in creating Lean farms in Nigeria.
Lean for Nigeria Farms is a project funded by USAID.
The webinar is recorded to accommodate all time zones.
Registration: https://us02web.zoom.us/meeting/register/tZYtc-6rqzgsG9cm7D5LaFu8AO6tGyaaI1CE 
The Lean improvement philosophy and methodology began in manufacturing but can be and is applied across all industries and businesses. Ben Hartman, a farmer from Indiana USA, has applied Lean to his farming operation and has been involved with a project funded by USAID to improve farms in Nigeria through the Nigerian Extension Service.  Join us to hear Ben's analysis of how Nigerian farmers can improve their efficiency and productivity.
This webinar is one of our monthly Operational Excellence Webinars to support and promote a continuous improvement culture. All recordings of this webinar can be watched later at: bit.ly/3FWC5uq
Agenda
| | | |
| --- | --- | --- |
| Topic | Speaker(s) | (mins) |
| Introduction | Gustavo Teixeira (EiB) |  5 |
| Key behaviors in a CI culture | Theresa Heitman (EiB) | 5 |
| Introduction to process mapping featuring the Value Stream Map | Kehinde Olabode (IITA) | 15 |
| Lean Farming in Nigeria | Ben Hartman, Chyka Okarter and Jean-Pierre Rousseau | 25 |
Objectives
The webinar will help participants understand or be able to do the following:
Gain knowledge about what behaviors are important in a CI culture.
Help participants become familiar with the value of process mapping.
Expose participants to with different types of process maps.
Gain an understanding of the Value Stream Map.
Understand how Lean analysis has helped improve farming processes in Nigeria
Resources