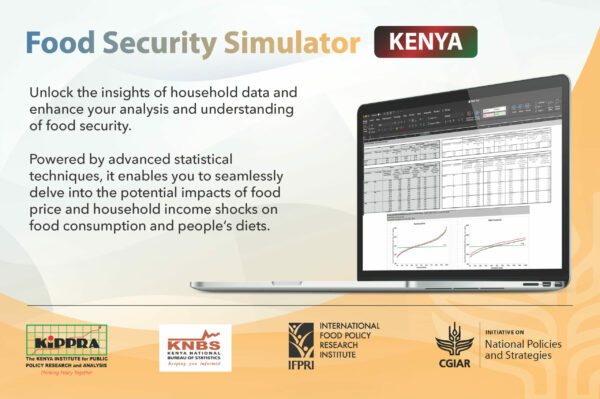 Launch of Food Security Simulator - Kenya
Date

21.06.23

Time

07:00 pm > 09:00 pm

UTC+03:00
T
he Food Security Simulator is an innovative and easy to use, MS-Excel-based tool for assessing the potential short-term impacts of food price or household income
shocks on food security and people's diets.
The Simulator is an ideal tool for first-cut forward-looking evaluations of direct, household-level outcomes of economic crises and policy responses in a timely manner.
Key indicator results are summarized in concise overview tables and visualized in graphs. The underlying data include estimates from representative household survey data and rigorous, sophisticated food demand models to capture consumer behavior.
Welcome
Rose Ngugi, Executive Director, Kenya Institute for Public Policy Research and Analysis (KIPPRA)
Opening Remarks
Fred Simiyu, Director Research E-Commerce and Trade Policy Analysis Directorate, Ministry of Investment Trade and Industry(MITI), Kenya
Presentation
Olivier Ecker, Senior Research Fellow, IFPRI
Andrew Comstock, Senior Research Analyst, IFPRI
Moderator
Clemens Breisinger, Lead, CGIAR Initiative on National Policies and Strategies and Country Program Leader, Kenya, International Food Policy Research Institute, Senior Research Analyst, IFPRI
---
Individuals attending this event may be audio taped, videotaped, or photographed during the course of a meeting, and by attending grant permission for their likenesses and the content of their comments, if any, to be broadcast, webcast, published, or otherwise reported or recorded. Questions? Please contact nps@cgiar.org
---
We would like to thank all funders who supported this research through their contributions to the

 
CGIAR Trust Fund
.