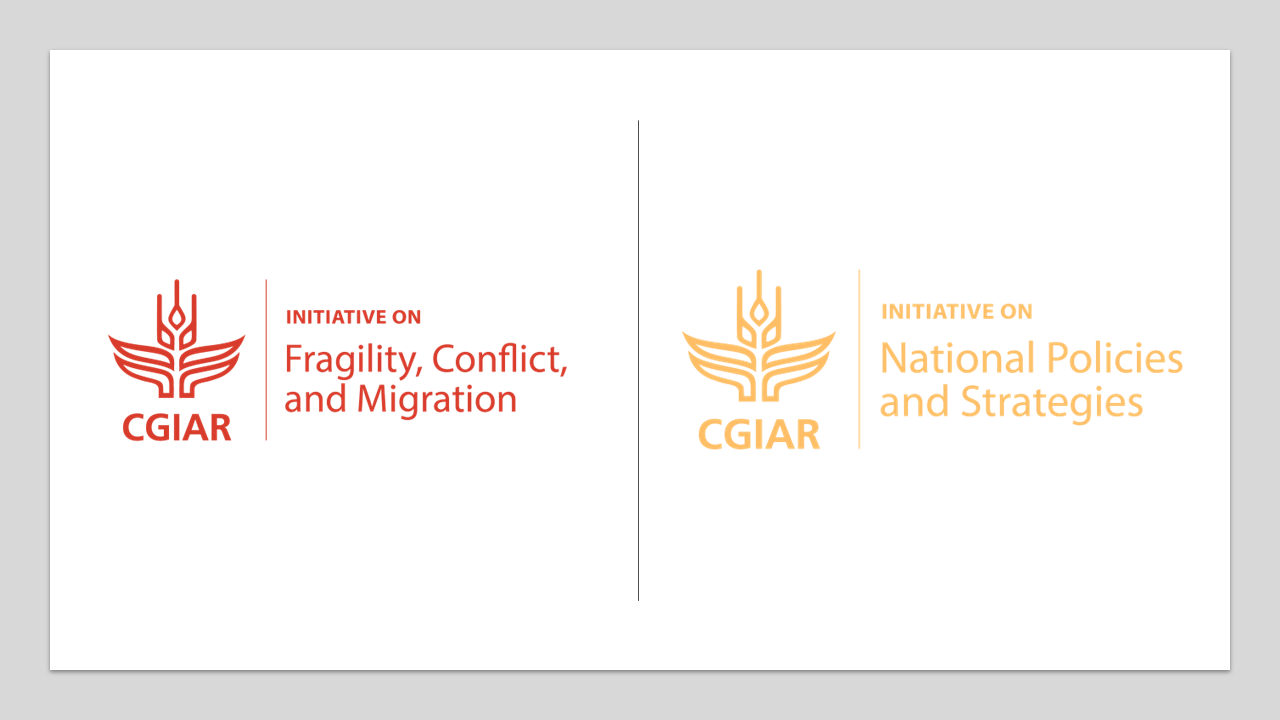 Fragility, Conflict and Migration (FCM) & National Policies and Strategies (NPS): Joint Initiative Seminar
Date

12.05.23

Time

08:00 am > 02:00 pm

UTC+01:00

Location

Ballroom, Fraser Suites, Leventis Close, CBD, Abuja, Nigeria
OPENING REMARKS
 Katrina Kosec, Lead, CGIAR Initiative on Fragility, Conflict and Migration (FCM) and Senior Research Fellow, IFPRI
 Kwaw Andam, Country Lead for Nigeria, CGIAR Initiative on National Policies and Strategies (NPS) and Country Program Leader, IFPRI-Nigeria
PRESENTATIONS
Session 1: Anticipating Shocks and Strengthening Resilience ( Moderator: Mercy Alidri/Olukunbi Olanrewaju (IRC))
Anticipatory cash for climate resilience
CGIAR Initiative on National Policies and Strategies (NPS) & CGIAR Initiative on Fragility, Conflict and Migration (FCM) – Dolapo Adeyanju, Research Analyst, IFPRI
Innovation acceleration as a scaling pathway to strengthen resilience in agrifood systems
CGIAR Initiative on Fragility, Conflict and Migration (FCM) – Inga Jacobs-Mata, Regional Representative, IWMI Southern Africa
Violent conflicts, land allocation, and related agricultural investments: Empirical evidence from Nigeria
CGIAR Initiative on National Policies and Strategies (NPS) & CGIAR Initiative on Fragility, Conflict and Migration (FCM) – Mulubrhan Amare, Research Fellow, IFPRI
Water resource decision support system (DSS) to strengthen landscape resilience
CGIAR Initiative on West and Central African Food Systems Transformation – Olufunke Cofie, Regional Representative – West Africa, IWMI
Conflict-induced shocks and household food security in Nigeria
CGIAR Initiative on National Policies and Strategies (NPS) & CGIAR Initiative on Fragility, Conflict and Migration (FCM) – Opeyemi Olanrewaju
Dealing with pests: Evaluating the impacts of using the Pod Borer-Resistant Cowpea variety
CGIAR Initiative on National Policies and Strategies (NPS) – Kwaw Andam, Senior Research Fellow, IFPRI
Session 2: Empowering Women and Youth (Moderator: Serena Mithbaokar (WFP))
Women's empowerment in agrifood governance
CGIAR Initiative on Gender Equality – Jordan Kyle, Research Fellow
Overcoming barriers to women's political participation
CGIAR Initiative on Fragility, Conflict and Migration (FCM) & CGIAR Initiative on Gender Equality – Katrina Kosec, Senior Research Fellow, IFPRI
Finance and post-harvest
CGIAR Initiative on Rethinking Food Markets – Kate Ambler, Senior Research Fellow, IFPRI
Spatial Inequalities and Youth Migration
CGIAR Initiative on National Policies and Strategies (NPS) – Mulubrhan Amare, Research Fellow, IFPRI
Q&A
Session 3: Strengthening Agrifood Policies (Moderator: Timothy Oni (NISER))
Experiments to accelerate adoption of improved varieties and quality seeds
CGIAR Initiative on Market Intel – Chibuzo Nwagboso, Research Analyst, IFPRI
Seed certification and maize, rice, and cowpea productivity
CGIAR Initiative on Seed Equal – Adetunji Fasoranti, M&E Specialist, IFPRI
Capacity strengthening: Updating SAM for setting policy priorities
CGIAR Initiative on National Policies and Strategies (NPS) – Temilolu Bamiwuye, Research Analyst, IFPRI
National aqua food policy directions
CGIAR Initiative on Aquatic Foods – Chibuzo Nwagboso, Research Analyst, IFPRI
Strengthening the community of policy practice in Nigeria
CGIAR Initiative on National Policies and Strategies (NPS) – Hyacinth Edeh, NPS Nigeria Coordinator of Advocacy and Stakeholder Engagement
Q&A
Breakout session
Breakout Groups:
1. Anticipating Shocks and Strengthening Resilience
2. Empowering Women and Youth
3. Strengthening Agrifood Policies
Questions for groups:
• What were the most interesting insights for you from the work presented?
• What are the missing issues or gaps that you feel should be addressed in ongoing and future work?
• What programs or initiatives are you working on or know about that could serve as collaborative opportunities?
Reflections and Closing Remarks
Kate Ambler
Katrina Kosec
Inga Jacobs-Mata
Kwaw Andam 
Aline Mugisho 
---
This work is part of the CGIAR Research Initiative on National Policies and Strategies (NPS). CGIAR launched NPS with national and international partners to build policy coherence, respond to policy demands and crises, and integrate policy tools at national and subnational levels in countries in Africa, Asia, and Latin America. CGIAR centers participating in NPS are The Alliance of Bioversity International and the International Center for Tropical Agriculture (Alliance Bioversity-CIAT), International Food Policy Research Institute (IFPRI), International Livestock Research Institute (ILRI), International Water Management Institute (IWMI), International Potato Center (CIP), International Institute of Tropical Agriculture (IITA), and WorldFish. We would like to thank all funders who supported this research through their contributions to the CGIAR Trust Fund.