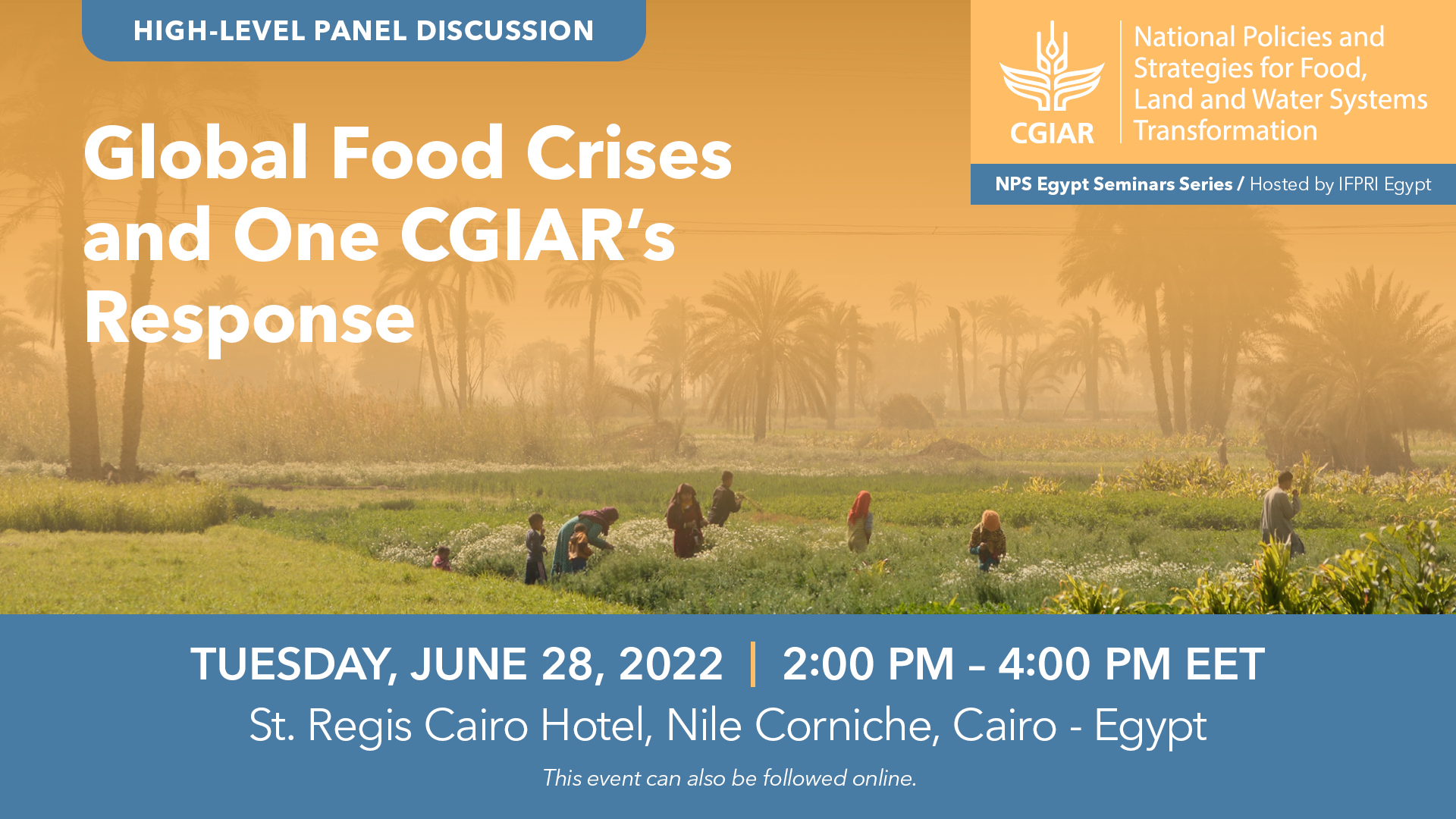 Egypt NPS Seminar Series: Global Food Crises and One CGIAR'S response
Date

28.06.22

Time

02:00 pm > 04:00 pm

UTC+02:00

Location

1189 Nile Corniche, Boulaq Num.5, Bulaq, Cairo, Egypt
Recurrent food crises and shocks in the world necessitate immediate national as well as global responses to provide short-term relief and longer-term policy change. As economies began recovering from the global COVID-19 pandemic during 2021, the Russian-Ukraine crisis emerged and has become a major setback to global recovering, sparking another global food security crisis. Some countries are particularly vulnerable, including those experiencing uneven economic recovery due to the COVID-19 pandemic, conflict-affected and fragile economies, and low-income countries with high levels of food import dependence.
The Middle East and North Africa (MENA) region is one such region. The Russian-Ukraine crisis has triggered a major food price surge across the region as well as a range of policy responses—especially export restrictions by major producing countries— which are affecting the situation in different ways. Some of these responses could fan further food price inflation in an already ailing global economy recovering slowly from the COVID-19 pandemic. Domestic and regional policy responses to the unfolding food crisis therefore require careful consideration of their impact on domestic and regional markets. This represents a particularly complex set of policy challenges in the MENA region, where looming threats from climate change and water scarcity are already affecting agricultural production and productivity.
This high-level panel discussion brought important global and national lessons from diverse policy makers and researchers on how countries and markets are responding to the unfolding multiple crises.
For more details visit:  https://egyptssp.ifpri.info/2022/06/20/egypt-nps-seminar-series-global-food-crises-and-one-cgiars-response/