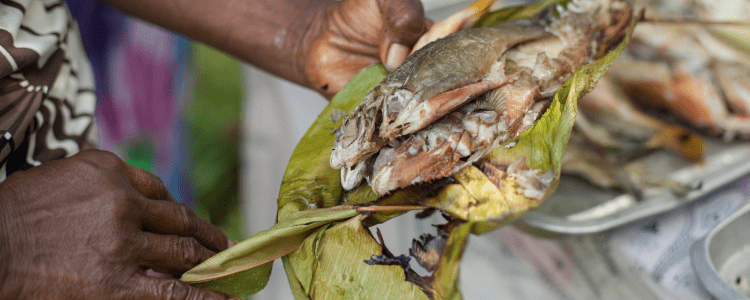 CGIAR researchers join the Chef's Manifesto Resilience Sessions
Date

21.10.20

Location

Virtual
CGIAR researchers joined chef Arthur Potts Dawson, a Chefs' Manifesto Action Hub advocate, to discuss food systems resilience and transformation as part of a series of Resilience Sessions.
Date: Wednesday, 21 October 2020
Time: 13:00 (BST) / 20:00 (UTC+8)
Click here to watch the event recording
Resilience is a building block of sustainable development that focuses on adapting quickly to and growing stronger in the face of change – a changing climate, a changing ecosystem, market, or socio-political situation. Where bouncing back from adversity has become our reality, resilience is our future. Increasing resilience is an essential element of food systems transformation to do better for people and planet.
CGIAR Researchers, including WorldFish's Research Program Leader for Value Chains and Nutrition, Shakuntala Thilsted, was part of a panel discussion on how to strengthen our food systems to secure good and nutritious food for all. During the live event, we discovered the final resilient ingredient part of the series of cooking demos on resilient food, while participants get a snapshot of resilience from a scientific perspective, in the field, and in the urban landscape.
Invited speakers:
Shakuntala Thilsted, Research Program Leader, Value Chains and Nutrition, WorldFish; Food Systems Champion 
Christophe Béné, Senior Policy Expert, Decision and Policy Analysis Program (DAPA), International Center for Tropical Agriculture
Claudia Ringler, Deputy Division Director, Environment and Production Technology Division, International Food Policy Research Institute (IFPRI)
Host:
Arthur Potts Dawson, OmVed Gardens Chef and World Food Programme Advocate
For more information, visit the official events page.