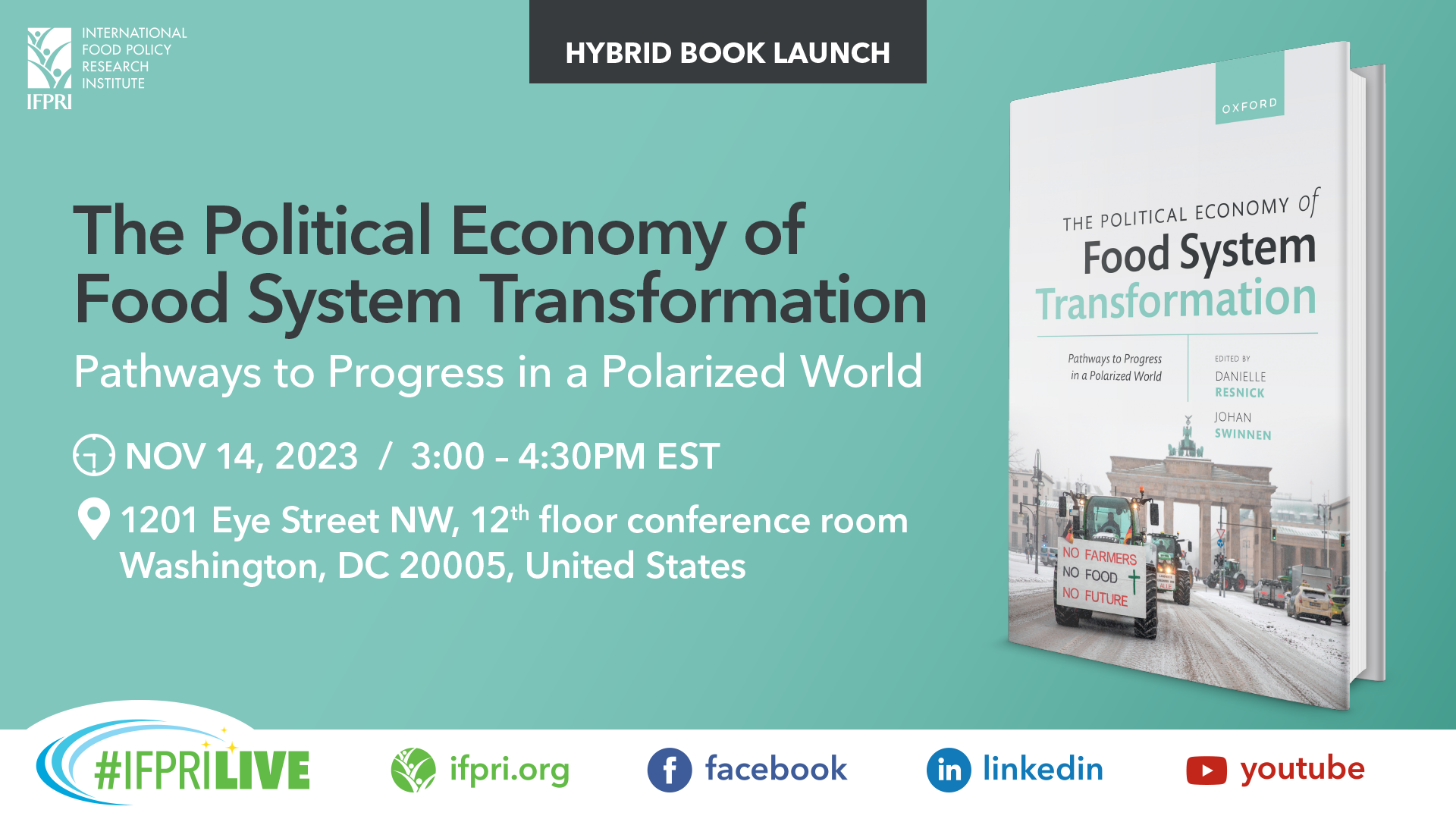 BOOK LAUNCH The Political Economy of Food System Transformation: Pathways to Progress in a Polarized World
Date

14.11.23

Time

02:00 pm > 06:00 pm

UTC-11:00

Registration
Amid rising geopolitical conflict, populism and nationalism, and clashes between empirical evidence and disinformation campaigns, many countries are trying to transform their food systems to achieve healthier, more sustainable outcomes. To accomplish this challenging goal, pathways to transform food systems must be grounded in a sound understanding of interest group dynamics, incentive systems, the role of ideology and coalitions, and accountability structures.
The Political Economy of Food System Transformation, a new IFPRI and Oxford University publication edited by Danielle Resnick and Johan Swinnen, tackles this complex subject by integrating insights from a global set of interdisciplinary scholars. Their work encompasses food system policy issues relevant to diets and environmental sustainability at the local, national, and international levels. The authors address a wide range of issues, including the need to repurpose costly agricultural subsidies, reduce red meat and ultra-processed food consumption, increase uptake of appropriate biotechnologies, adopt sugar-sweetened beverage taxes, implement the European Union's Farm to Fork Strategy, adapt urban food system councils to local contexts, and track accountability for global food system commitments.
Join us for this hybrid book launch at IFPRI headquarters and online—speakers will discuss the political economy of these issues and reflect on opportunities to pursue food system policy reforms in an increasingly polarized world. A light reception will follow the presentations.
Speakers
Christopher Barrett, Stephen B. and Janice G. Ashley Professor of Applied Economics and Management and International Professor of Agriculture at the Charles H. Dyson School of Applied Economics and Management, Cornell University
Koen Deconinck, Economist, Trade and Agriculture Directorate, Organization for Economic Cooperation and Development
Eduardo Gómez, Professor and Director of the Institute of Health Policy and Politics, Lehigh University
Danielle Resnick, Senior Research Fellow, Development Strategies and Governance Unit, IFPRI and Non-Resident Fellow, Brookings Institution
Johan Swinnen, Managing Director, Systems Transformation, CGIAR and Director General, IFPRI
Discussant
Moderator