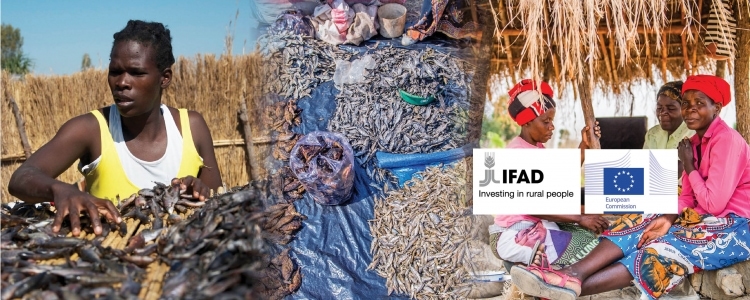 Nutrition-sensitive Fish Agri-food Systems in Zambia Workshop
Date

24.02.20 > 25.02.20

Location

Zambia
Since 2016, the IFAD-European Commission funded and WorldFish-led, project Managing Aquatic Agricultural Systems to Improve Nutrition and Livelihoods, has scaled-up the nutrition-sensitive fish production approaches previously developed and introduced in Bangladesh in support of rural and vulnerable households in Southeast Asia and Africa. In Zambia, the project implemented nutrition-sensitive fish production approaches to increase availability, access, and consumption of micronutrient-rich small fish to improve food and nutrition security in targeted communities of the Luwingu District.
As part of the progress made on the project and the next steps for implementing this project, WorldFish invited key partners and stakeholders to participate in the Nutrition-sensitive Fish Agri-food Systems in Zambia workshop, from 24 to 25 February 2020, at Protea Hotel, in Lusaka, Zambia.
This workshop reviewed, evaluated and proposed new approaches and follow up actions from the Managing Aquatic Agricultural Systems to Improve Nutrition and Livelihoods project and discussed the policy briefs developed for effective advocacy and implementation on nutrition-sensitive approaches to strengthen livelihoods and food security. Some of the workshop's highlights included:
A plenary session on Nutrition-sensitive fish agri-food systems.
An overview of the challenges of project implementation and the lessons learned so far by project staff and partners.
The introduction and discussion of the country policy briefs for improved nutrition, as well as a strategy to facilitate their distribution among partners and key stakeholders.
A discussion on future scaling-up opportunities for Zambia and Sub-Saharan Africa.
The event provided a platform for increased engagement and discussion around improved and safe nutrition for all participating stakeholders and implementing partners, including the Government of Zambia, CGIAR centers, UN agencies, and different international and non-governmental research institutions and not-for-profit organizations in Zambia and Africa.
Workshop Contacts:
Victor Siamudaala (v.siamudaala@cgiar.org)
Victoria Nkole (v.nkole@cgiar.org)
To view the full agenda, click here
#nutrition #foodsystems