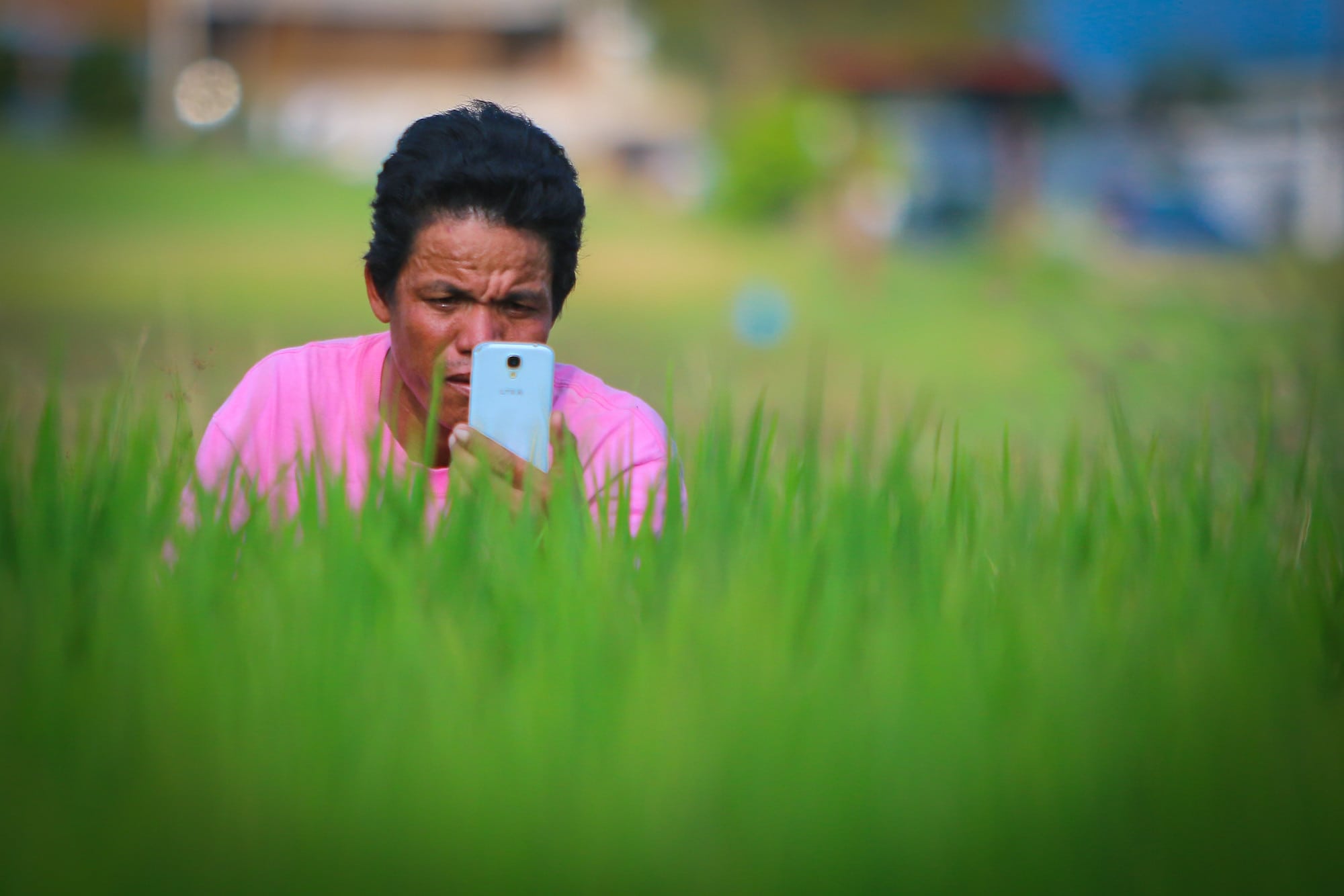 Digital Innovation
Challenge
Digital innovations can enable an unprecedented transformation of food, land and water systems for greater climate resilience and sustainability. To realize this potential, multidisciplinary expertise across the CGIAR must find solutions to three challenges affecting the Global South: 
The digital divide

: digital technologies and infrastructure do not meet people's needs, especially women and rural populations. More than 600 million people live outside the reach of mobile networks, two-thirds of them in sub-Saharan Africa.

 

Weak information systems

: available information is inadequate or does not reach those who need it most. More than 300 million small-scale producers lack access to digital climate services. Weak information systems prevent evidence-based policy responses and lead to missed opportunities to reduce poverty and increase economic growth.

 

Limited digital capabilities

: digital literacy and skill levels across the Global South remain low, particularly for marginalized and food-insecure individuals and groups such as women.
Objective
This Initiative aims to develop and support digital innovations to stimulate the inclusive, sustainable transformation of food, land and water systems in the areas of investments that policymakers could make to close the digital divide, information delivery systems that allow more people to take action against predicted risks, and ways for partner organizations and marginalized communities to enhance digital capabilities, access resources and opportunities. 
Activities
This objective will be achieved through:
Generating evidence on impacts of digital innovations and collaborative partnerships

to create an enabling environment for digital ecosystems, unlocking local innovators' access to investments and advanced technologies.

 

Developing a suite of tools and guidelines to bridge the digital divide,

ensuring that gender equality and social inclusion underly the development of digital innovations, research programs and their implementation.

 

System dynamics modeling

to

understand complex dynamics in agrifood systems and support natural resource management authorities in equitably allocating water and land resources and managing risks.

 

Real-time food system monitoring

to

provide timely and reliable information to stakeholders by applying AI-driven analytics of satellite remote sensing, internet-connected sensors, and other ground-truthed data from multidisciplinary sources.

 

Strengthening partners' capacity to collect real-time data, conduct data analytics and make data-driven decisions

to enable equitable digital platforms and services.

 
Engagement
This Initiative will work in Egypt, Ethiopia, Ghana, Guatemala, India, Indonesia, Kenya, Mozambique, Rwanda and South Africa as a priority.
Outcomes
Proposed 3-year outcomes include:
Local digital ecosystems are strengthened through more than five strategies and investments for inclusive innovations, and five collaborative impact-driven partnerships established through the Initiative's research support and facilitation.

 

At least 1,000 people (40% women) use digital advisory services with enhanced gender-responsiveness and social inclusion as a result of the Initiative's research, and more than 3 Initiative partners revise their strategies to address the digital divide.

 

At least three natural resource management organizations improve technical capacities to monitor food-land-water systems, assess climate risks and inform stakeholders by disseminating more than 10 advisories with actionable information to equitably allocate natural resources.

 

Improved agrifood information systems incorporating high-frequency monitoring data and decision-support analytics supported by the Initiative reach more than 1,000 people to manage climate and market risks.

 

At least 10 partners boost digital capabilities to incorporate real-time data and analytics in extension, institutional research, and decision-making processes developed through the action-oriented, inclusive and human-centered design approaches. 

 
Impact
Projected impacts and benefits include:
CLIMATE ADAPTATION & MITIGATION

Improved early warning systems benefit 108,000 people at risk of flooding, avoiding at least 360 lives lost to floods. Food, land and water systems stakeholders access climate forecasts to better manage the risks, adopt climate-smart technologies and management practices and improve their climate adaptive capacity. Policymakers use intersectoral data and food, land and water systems status indicators to negotiate global climate agreements on the adaptation and mitigation planning.

NUTRITION, HEALTH & FOOD SECURITY

Through the adoption of developed data, services and gender-responsive design tools, 6.08 million rural residents in food-production areas with climate hazards are using digital services by 2030, enabling them to detect risks early, make targeted interventions and monitor the effects in real-time to ensure a continued supply of nutritious food and safe water.

POVERTY REDUCTION, LIVELIHOODS & JOBS

Strengthened digital ecosystems with timely, reliable food, land and water systems information allow 6.08 million people to better manage risks, optimize business decisions, create market opportunities, increase income and profitability and improve livelihoods. Digital extension services are strengthened to provide targeted, inclusive advisory information and scale to reach ten times more subscribers, creating more youth employment opportunities.

GENDER EQUALITY, YOUTH & SOCIAL INCLUSION

Bundles of data, services and gender-responsive design tools support innovators to improve the gender-responsiveness of their solutions to better serve the needs of at least 2.43 million women in food, land and water systems, doubling the share of women benefiting from digital advisory and financial services to 40%, from a baseline of 20%. Digital tools empower marginalized groups to voice concerns and influence governance.

ENVIRONMENTAL HEALTH & BIODIVERSITY

Timely information on the state of food, land and water systems and embedded biodiversity helps stakeholders assess environmental impacts, such as infrastructure development (natural and built) impacts on surface water availability and deforestation, accounting for environmental costs. Publicizing this information incentivizes food system actors to adopt practices promoting environmental health and biodiversity on at least 8 million hectares. 
Projected benefits are a way to illustrate reasonable orders of magnitude for impacts which could arise as a result of the impact pathways set out in the Initiative's theories of change. In line with the 2030 Research and Innovation Strategy, Initiatives contribute to these impact pathways, along with other partners and stakeholders. CGIAR does not deliver impact alone. These projections therefore estimate plausible levels of impact to which CGIAR, with partners, contribute. They do not estimate CGIAR's attributable share of the different impact pathways.
Header photo: A field technician uses Rice Crop Manager, a software developed by IRRI, to get real-time recommendations on his plot. Photo by I. Serrano/IRRI.