CRP
CGIAR Research Program on Fish Agri-food Systems (FISH)
Geographic scope
Bangladesh
Funders
United States Agency for International Development (USAID)
CRP partner
WorldFish
Partners
Bangladesh Agricultural University (BAU Bangladesh)
Bangladesh Fisheries Research Institute (BFRI)
Chittagong Veterinary and Animal Sciences University (CVASU)
Coastal Association for Social Transformation Trust (COAST Trust)
Community Development Centre (CODEC)
Hathay Bunano Proshikan Society (HBPS)
International Development Enterprises
International Institute for Environment and Development (IIED)
International Union for Conservation of Nature (IUCN)
Jagannath University (JNU)
Patuakhali Science and Technology University (PSTU)
Sylhet Agricultural University (SAU Bangladesh)
The University of Rhode Island (URI)
Wildlife Conservation Society (WCS)
Contact person
Wahab Abdul, WorldFish
In Bangladesh, coastal riverine and estuarine resources are important contributors to the national economy and local livelihoods through small-scale fisheries. Hilsa shad (Tenualosa ilisha) is the national fish of Bangladesh, and accounts for 12% of the country's total fish production (2017-2018), contributing more than 1% of gross domestic product.
Since 2003, small-scale hilsa fisheries have become increasingly threatened by population growth, overfishing, pollution and climate change. Reduced catches and less stable incomes for fishers have contributed to poverty, malnutrition, social tensions, stakeholder conflicts, and debt cycles among fishing communities.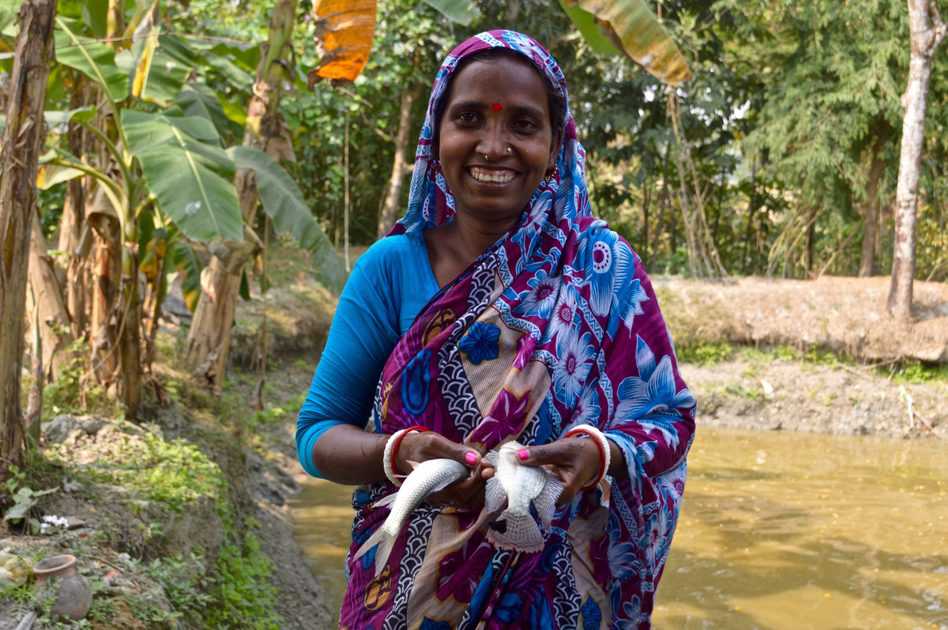 As part of a five-year project (2014-2019), "Enhanced Coastal Fisheries in Bangladesh" (ECOFISH-BD), the CGIAR Research Program on Fish Agri-food Systems (FISH) activities aimed to improve the resilience of the Meghna and Padma  Rivers, coastal ecosystems and the livelihoods of communities reliant on fisheries. Some of the most significant measures included: establishing well-enforced seasonal restrictions on hilsa and jatka (juvenile hilsa) catches, including non-fishing periods; expanding community engagement in the co-management of fisheries; and targeted public awareness campaigns. Fisher families were trained in alternative income-generating activities which, together with rice subsidies from the government, increased income security and reduced incentives for catching hilsa during fishing-ban periods.
Since the implementation of the project, hilsa catches have increased, the average size of hilsa has improved, and fishers' household incomes have risen.
FISH research and activities have resulted in improved hilsa production, with 4,275 households adopting fish management practices; 20,966 people, of whom 45% are women, being assisted out of poverty; and 121,158 hectares of biologically significant freshwater area under improved management. Since the implementation of the project, hilsa catches have increased, the average size of hilsa has improved, and fishers' household incomes have risen.
The links between the impact of FISH efforts in Bangladesh and CGIAR's System-level Outcomes (SLOs) and the United Nations Sustainable Development Goals (SDGs) are summarized below.
Key impacts
2019
SLO target 1.1: 100 million more farm households have adopted improved varieties, breeds, trees, and/or management practices

In Bangladesh, 4,275 hilsa fishing households fully engaged in sound and sustainable alternative income-generating activities (AIGAs).
SLO target 1.2: 30 million people, of whom 50% are women, assisted to exit poverty

The ECOFISH-BD project targeted 22,500 people (4,500 households) to ensure increased economic benefits and ensured benefits for 20,966 people, of whom 11,450 (55%) were men and 9,516 (45%) were women.
SLO target 3.3: 55 million hectares (ha) of ecosystem restored, including degraded land area and aquatic ecosystems

121,158 hectares of biologically significant area under improved management in Bangladesh.
SLO target 2.1: Improve the rate of yield increase for major food staples from the current <1% to 1.2-1.5% per year

In Bangladesh, 4,350 households were associated with improvements in hilsa management and reported productivity gains in fisheries.
SLO target 3.1: 5% increase in water and nutrient (inorganic, biological) use efficiency in agro-ecosystems, including through recycling and reuse

59,151 hectares of new riverine and coastal areas were brought under improved natural resource management in the Padma and Tetulia rivers during 2018, further extending the habitat now under improved co-management measures.
SLO target 3.3: 55 million hectares (ha) of ecosystem restored, including degraded land area and aquatic ecosystems


186,050 ha of water area is under improved management in Bangladesh through co-management.
Science-based initiatives
As part of the ECOFISH-BD project, FISH scientists at WorldFish innovatively combined collaborative scientific research and the co-management of fishing sanctuaries to improve the resilience of river ecosystems and coastal fishing households.
Research has allowed for: the estimation of hilsa catches; identification of spawning seasons and areas; recommendations for closed seasons and fishing mesh sizes; the assessment of biodiversity; the identification of sub-populations/races of hilsa; and the assessment of river pollution.
In 2019, 60 boat skippers were trained as citizen scientists to monitor fish catches using smartphones. The citizen scientists, while fishing in the five fishery sanctuaries and marine habitats, provided real-time species-wise catch data, uploaded directly to a database via an easy-to-use app.
Concurrent genetics research in 2019 confirmed via genetic analysis that there were in fact three sub-species of hilsa in Bangladesh waters and that these return to their native rivers for spawning. These findings will now help to formulate new spatial-based management policies for hilsa fisheries that are better able to protect this genetic diversity.
Food products using ingredients derived from hilsa have also been developed. These products bring hilsa to people, especially children, who find eating the whole fish difficult due to the pin bones. To address this, assistance was provided through FISH to develop and produce boneless hilsa products – hilsa soup, hilsa noodles and hilsa cubes – through a public-private partnership involving the Fisheries Technology Department of Bangladesh Agricultural University and a private sector entrepreneur.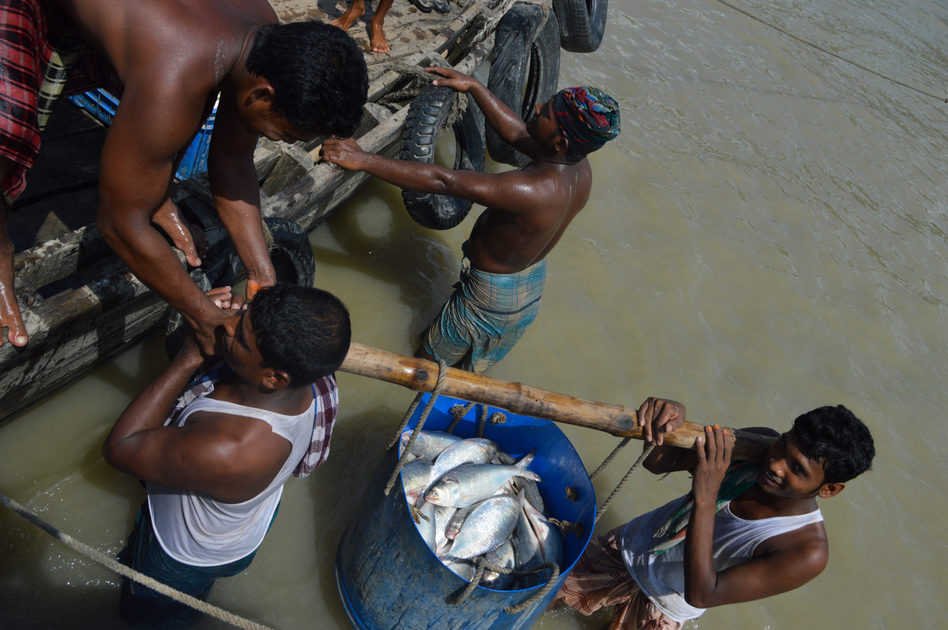 Adaptive co-management
Co-management is a globally prioritized strategy for the management of small-scale fisheries in the context of food and nutrition security, and in achieving more equitable control over productive assets. In this case, co-management strategies in Bangladesh involved area management and national policy adjustments. Co-management initiatives were implemented in 136 fishing villages within fishing sanctuaries. Three types of groups were formed at the community level: hilsa conservation groups, hilsa ghat groups, and women's community savings groups.
Representatives from these three types of groups and other community representatives came together to form a Fisheries Management Committee at the village level. This committee was responsible for formulating, coordinating, and implementing local fisheries management action plans, and representing co-management initiatives at higher levels of governance.
In addition, 400 community fish guards were nominated through a participatory approach and deployed to oversee the compliance of fishery regulations, such as the seasonal ban. As enforcement agencies in Bangladesh lack sufficient labor, funds and equipment, the introduction of community fish guards supported enforcement – decentralized implementation and enforcement being a key feature of co-management.
The support of co-management interventions is understood to have contributed to a 6% increase in production, resulting in approximately 130,000 tons of hilsa being caught between 2017 and 2019, with a value of around USD 1.04 billion. In some cases, total household fisher income and income from fishing activities have increased by 65% and 67% respectively. Nonetheless, there are also short-term costs faced by fishers due to fisheries area and seasonal closures. To partly offset those costs, 4,275 hilsa fishing households were engaged in alternative income-generating activities.
Gender-focused livelihood support and capacity development
The development of gender-integrated approaches included consultation with women, and overall, 38% of the 1,347 people who participated in or were trained through the project were women.
As a central feature of the livelihoods component, 148 women's community savings groups were established as a means of contributing to closing persistent economic gender gaps. These involved 4,125 women, in total managing USD 159,210 of savings. The savings group model was designed to address key gender barriers, for example, providing collateral-free soft loans to overcome the lack of assets that often prevents women from accessing loans. Additionally, as part of the design of savings groups, loan repayments ceased during fishing bans to reduce economic risk to households. The women receiving loans have reinvested in small businesses such as tailoring, commercial gardening and rearing goats, cows and poultry. These alternative income-generating strategies were particularly important during fishing ban periods, as they enabled women to generate income when they were unable to fish.  
An impact study revealed that the household savings of the group members increased significantly compared to other fishing households. There is evidence that this approach has also led to increased engagement and influence of women fishers in fisheries governance, which has contributed to greater compliance within communities with hilsa and biodiversity conservation measures.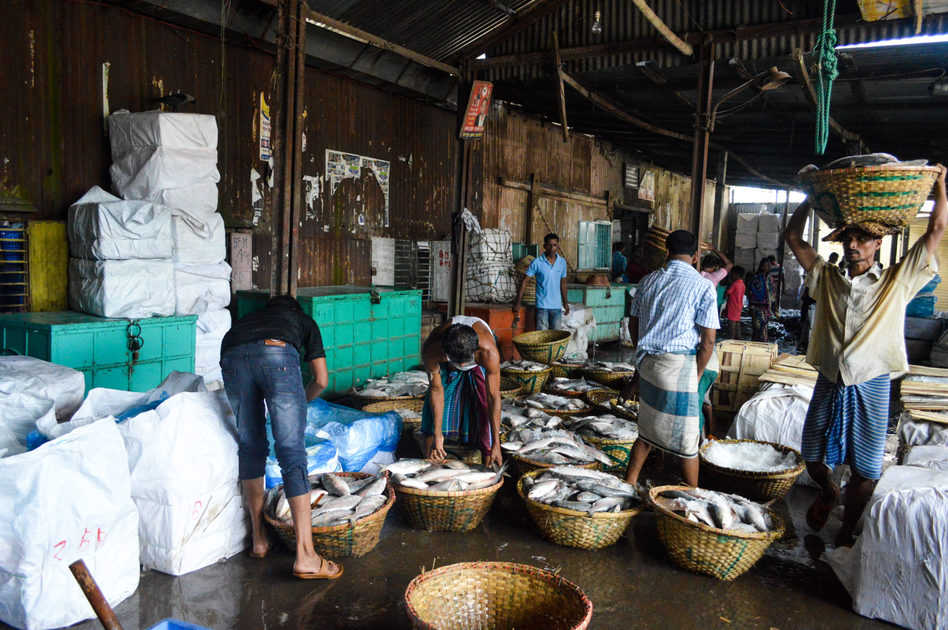 Creating an enabling policy environment
In Bangladesh, the FISH team, supported by the ECOFISH-BD project, has developed and informed a range of new and revised policies that aim to increase and sustain hilsa fisheries production, and improve the livelihoods of those women and men dependent on hilsa fisheries. The Bangladesh Government's Hilsa Fisheries Management Action Plan was revised and updated in 2018 based on ECOFISH-BD research and activities, and was submitted to the Department of Fisheries.
Comprehensive studies were undertaken as part of the project through experimental fishing involving fishers as citizen scientists, in collaboration with the Bangladesh Fisheries Research Institute. As a result of this research, based on growth and maturity rates of hilsa, FISH recommended that the mesh size of hilsa fishing nets be changed to 6.5 centimeters. In 2019, the Government of Bangladesh accepted this recommendation and planned to issue a regulation on fishing nets that will contribute to sustainable practices and hilsa management.
In coordination with the Department of Fisheries, FISH supported the establishment of a sustainable financial structure to ensure the economic emancipation of fishers. The Hilsa Conservation and Development Fund was established in 2019 with ECOFISH-BD contributing USD 500,000.
This fund, and other efforts around fishers' wellbeing are necessary to work in concert with the 2019 declaration of a 3,188-square-kilometer Marine Protected Area. The protected area covers estuarine waters at the mouth of the world's third largest river system, the Padma-Jamuna Meghna system, as well as the offshore area of the Nijhum Dwip National Park. It also includes the protection of areas identified by research as hilsa breeding and nursery grounds. The trade-offs between medium-term sustainability goals, and shorter-term livelihood and food and nutrition security goals, are the focus of ongoing research in close collaboration with both government and fisher representatives.
Selected peer-reviewed articles
Fine-scale population structure and ecotypes of anadromous hilsa shad (Tenualosa ilisha) across complex aquatic ecosystems revealed by NextRAD genotyping (2019)
Population genomics of an anadromous hilsa shad Tenualosa ilisha species across its diverse migratory habitats: Discrimination by fine-scale local adaptation (2019)
Understanding social-ecological challenges of a small-scale hilsa (Tenualosa ilisha) fishery in Bangladesh (2019)
The potential for homestead pond polyculture of tilapia and carps in coastal Bangladesh (2019)
Impacts of fishing bans for conservation on hilsa fishers' livelihoods: Challenges and opportunities (2018)
Social considerations of large river sanctuaries: A case study from the hilsa shad fishery in Bangladesh (2018)
Enhancing social resilience of the coastal fishing communities: A case study of hilsa (Tenualosa ilisha H.) fishery in Bangladesh (2018)
Reimagining large-scale open-water fisheries governance through adaptive comanagement in hilsa shad sanctuaries (2018)
Further resources
Guardian publications: ECOFISH
Header photo: A farmer holds a fish from his aquaculture pond in Rajapur, Bangladesh. Photo by J. Turner/CCAFS.