CRP
A4NH
CRP partner
International Institute of Tropical Agriculture (IITA)
Geographic scope
Nigeria, Kenya, Ghana, Tanzania, Mozambique, Zambia, The Gambia, Senegal, Burkina Faso, Malawi
Funders
U.S. Agency for International Development (USAID)
Bill & Melinda Gates Foundation
Meridian Institute
AgResults
Australian Government Department of Foreign Affairs and Trade (DFAT)
UK Department of International Development (DFID)
Global Affairs Canada
The World Bank
The Foreign Agricultural Service of the United States Department of Agriculture (USDA-FAS)
Austrian Development Cooperation
The German Federal Ministry for Economic Cooperation and Development (BMZ), through the Deutsche Gesellschaft für Internationale Zusammenarbeit (GIZ)
European Union (H2020 and FP7)
Partners
U.S. Department of Agriculture (USDA)
African Union and Regional Economic Commissions in Africa
National institutions throughout sub-Saharan Africa and in Europe
Private companies throughout sub-Saharan Africa
Contact person
Ranajit Bandyopadhyay, Principal Plant Pathologist, IITA
Website
Aflasafe
Social media
Twitter
Facebook
In sub-Saharan Africa, fungi belonging to Aspergillus section Flavi frequently contaminate staple crops such as groundnuts and maize with aflatoxins. The consumption of foods containing high aflatoxin concentrations can have acute health effects, leading to liver cirrhosis or even death, while chronic exposure is known to cause liver cancer and is associated with immune system suppression, impaired food conversion, and stunting in children. Additionally, aflatoxins negatively impact incomes and livelihoods, trade, food security and development.
Researchers for the CGIAR Research Program on Agriculture for Nutrition and Health (A4NH), working from the International Institute of Tropical Agriculture (IITA), have developed a range of country-specific Aflasafe® products which have delivered real and positive impacts for food security and livelihoods throughout sub-Saharan Africa. These all-natural biocontrol agents drastically reduce aflatoxins in crops, preventing serious public health issues related to the consumption of produce contaminated by aflatoxins, and have been proven to increase the trade potential of crops and, in turn, the incomes of farmers.
The contributions of Aflasafe products to CGIAR's System-level Outcomes (SLOs) and the United Nations Sustainable Development Goals (SDGs) are summarized below.
Key impacts
2019
SLO target 1.1: 100 million more farm households have adopted improved varieties, breeds, trees, and/or management practices

Approximately 95,000 farmers treated more than 120,000 hectares with Aflasafe in 2019, allowing production of maize and groundnut with safe aflatoxin levels. Large-scale use of Aflasafe contributed to improved food safety in most of the areas where crops were treated.
SLO target 1.1: 100 million more farm households have adopted improved varieties, breeds, trees, and/or management practices

As many as 60,000 farmers treated more than 63,000 hectares of land with Aflasafe. Large-scale use of Aflasafe contributed to improved food safety in most of the areas where crops were treated. In Nigeria, the use of Aflasafe increased the income of smallholder maize farmers, on average, 11.5% more than regular, untreated maize.
SLO target 2.3: 150 million more people, of which 50% are women, without deficiencies of one or more of the following essential micronutrients: iron, zinc, iodine, vitamin A, folate, and vitamin B12

In sub-Saharan Africa, more than 100,000 ha were treated with Aflasafe by 66,787 farmers, allowing production of maize and groundnut with safe aflatoxin levels. Large-scale use of Aflasafe has contributed to improved food safety (e.g. in Nigeria, 91% of samples had less than 20 ppb) and increased the income of smallholder maize farmers (on average, 11.5% more than regular maize).
The development of Aflasafe
For 18 years, A4NH researchers at IITA, together with the United States Department of Agriculture – Agricultural Research Service and national partners, have worked on the development of Aflasafe products that are context-specific to a number of African nations. Starting in Nigeria, researchers identified strains of Aspergillus flavus (A. flavus) that do not produce aflatoxins, called atoxigenic strains. Carefully selected atoxigenic strains are the active ingredients of Aflasafe and are coated on roasted, sterile sorghum grains, which are then spread in fields while crops are developing. The active ingredients grow and spread across crops and outcompete aflatoxin producers, preventing the fungi from growing on crops and contaminating them. Each Aflasafe product contains four atoxigenic A. flavus active ingredient strains native to the target nation. In all countries, the use of Aflasafe leads to an 80-100% reduction in aflatoxin contamination in fields.
In 2019, a decade-long study proved the efficacy of Aflasafe in Nigeria – the longest-term study of any aflatoxin management tool across the globe – finding that the use of Aflasafe is a practical, cost-effective, and environmentally safe aflatoxin mitigation tool that enables farmers in Nigeria to produce crops with little to no aflatoxin content.
In addition to the 10-year Nigeria study, other publications in 2019 on the efficacy of biocontrol products included those on groundnut and maize in Senegal, chili pepper in Nigeria, and maize and groundnut in Ghana. Another study in 2019 demonstrated that feed millers and poultry producers in Nigeria are willing to pay a premium for aflatoxin-safe maize.
Aflasafe throughout sub-Saharan Africa
Nigeria was the first country in sub-Saharan Africa to register Aflasafe in 2014. That year, A4NH and the CGIAR Research Program on Maize (MAIZE) and partners produced more than 135 tons of Aflasafe in IITA's Nigeria-based production unit. By 2016, 13,241 farmers in Nigeria had used Aflasafe on 19,726 hectares of land, and 35,186 tons of safe maize had been produced.
Following on from the experience of Nigeria, Aflasafe KE01 was approved by the Kenyan government for general use in June 2015, and Aflasafe SN01 was made available for commercial use in 2016 in The Gambia and Senegal. In 2017, an Aflasafe product, Aflasafe BF01, was registered for use in Burkina Faso.
In 2018, three more countries – Ghana, Zambia and Tanzania – registered two products each. In December 2018, Malawi's Agricultural Technical Clearing Committee approved Aflasafe MWMZ01 and Aflasafe MW02 for release and use by farmers. In February 2020, the Pesticides Control Board of Malawi approved the registration of both Aflasafe products paving the way for their sustainable commercialization.
In 2019, two more Aflasafe products were registered in Mozambique, bringing the total number of African countries with registered Aflasafe products to 10, and the total number of registered Aflasafe products to 14.
To date, three companies have been licensed to manufacture and distribute Aflasafe products in four countries – BAMTAARE Services in Senegal and The Gambia; HarvestField Industries Limited in Nigeria; and, most recently, A to Z Textile Mills Ltd. in Tanzania. In the case of Kenya, IITA's Aflasafe research-for-development projects financed and built the Aflasafe KE01 manufacturing facility and handed it over to the Government of Kenya. Aflasafe is now manufactured by the Kenyan Agricultural and Livestock Research Organization (KALRO) and distributed by Koppert Biological Systems.
The number of distributors continues to grow. In 2019, new distribution partners were added in Burkina Faso, Ghana and Kenya, and Aflasafe is now available at more than 30 distribution points across seven countries in Africa.
Aflasafe products are currently being tested in Rwanda, Benin, Niger and Mali, and are in development in the Democratic Republic of Congo, Uganda, Burundi, Ethiopia, Zimbabwe, Cameroon, Togo and Sudan.
These all-natural biocontrol agents drastically reduce aflatoxins in crops and have been proven to increase their trade potential and in turn the incomes of farmers.
Enabling uptake through policy support
A4NH has been involved in policy uptake to support aflatoxin mitigation as well as the registration and use of Aflasafe. In 2018, nine policy briefs were produced and launched by the East African Community (EAC), which contain key findings and recommendations of 11 multisectoral technical papers developed under the EAC Aflatoxin Policy and Program for the East Africa Region (APPEAR), funded by the USAID East Africa Regional Economic Integration Office and led by IITA. The briefs provide an implementation strategy and action plan for aflatoxin control and prevention for the health, agriculture, livestock, trade, industry and environmental sectors. They outline key strategic policy recommendations and actions to prevent and control aflatoxin contamination along food and feed value chains in East Africa and the associated threat to human and livestock health, trade and food security in the region.
Aflatoxin management strategies, including the use of Aflasafe, are now part of the National Agricultural Investment Plans of Nigeria, Tanzania, Malawi, Senegal, The Gambia and Uganda – six countries where the African Union Commission's Partnership for Aflatoxin Control in Africa (PACA) works.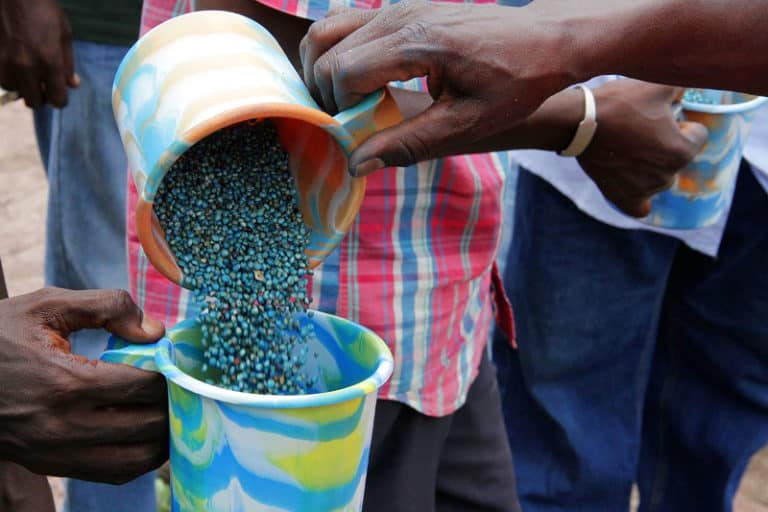 Scaling up Aflasafe use – partnerships and capacity development
Initial work on scaling up and adoption potential of Aflasafe began in 2013 with the pay-for-results AgResults Nigeria Aflasafe project that created initial demand for the product by enabling 41 farm-based agribusinesses to market more than 200,000 tons of aflatoxin-safe maize by 2019.
Over the last four years, IITA and partners (Chemonics International and Dalberg Advisors) have been implementing the Aflasafe Technology Transfer and Commercialization initiative (ATTC) to facilitate sustainable delivery of Aflasafe products to farmers in Africa. A range of resources on how to use Aflasafe in various contexts is also available on the Aflasafe website.
Partnering with government and private businesses has allowed for the transfer of Aflasafe technology and manufacturing to local entities. The use of Aflasafe products is scaled up through the development of tailored commercialization strategies, transfer of technology to appropriate manufacturing and distribution (M&D) partners, while enabling them to build infrastructure and follow correct processes to produce and market the biocontrol product, and the provision of appropriate training to farmers on how to use it.
In Ghana and Burkina Faso in 2019, public and private sector actors launched initiatives to help scale Aflasafe and increase awareness and capacity to mitigate aflatoxin contamination. Collaborative partnerships like these help countries sensitize value chain actors and consumers to aflatoxins, increasing both awareness of, and demand for, solutions for safer food. The Ghana Standards Authority has launched a National Aflatoxin Sensitization and Management initiative to increase and extend aflatoxin awareness, including awareness of Aflasafe, across the country. Funded by the Alliance for a Green Revolution in Africa (AGRA), with IITA as a partner, the initiative reflects ongoing public sector support for action on aflatoxin contamination in Ghana.
Also in 2019, the Ghana Commodity Exchange (GCX) signed a Memorandum of Understanding with IITA to provide a suite of information products to increase awareness about aflatoxin and its management, centered on biocontrol. These interventions all contribute to Ghana's Growth and Transformation Plan, which includes targets for improved crop production and storage, and farmer well-being.
In Burkina Faso, the Ministry of Trade, Industry and Handicrafts, in collaboration with the national farmers' organization, launched a national project to control aflatoxin in maize. This project was funded by Le Fonds pour l'application des normes et le développement du commerce, supported by the World Trade Organization's Standards and Trade Development Facility. This project facilitates strengthening of aflatoxin-safe value chains.
In Togo, IITA is providing advice and assistance on management strategies and Aflasafe product development. An interim committee, chaired by the Ministry of Agriculture, was established to set up an aflatoxin working group and develop a road map for the development of an Aflasafe product tailored to the country's needs. The Ministry of Agriculture organized a stakeholder workshop to discuss aflatoxins in the country and to brainstorm a road map to address the problem. The Ministry invited IITA to deliver the keynote presentation on aflatoxins, the science behind Aflasafe, and to advise on the best ways to design aflatoxin management strategies.
In 2019, Agence Française de Développement announced a USD 3 million potential grant for the development of an Aflasafe product for Sudan. When approved, this investment will fund a five-year project to develop and commercialize Aflasafe and complement other national public-private efforts where IITA is involved, such as the Multi-stakeholder Partnership for Aflatoxin Mitigation (MPAM) in Sudan. In late 2019, Samil Industrial Co., in collaboration with IITA, hosted a workshop in Khartoum to inaugurate the MPAM in Sudan – a unique example of a private sector company leading a national initiative to reduce aflatoxins across Africa.
Finally, in 2019, the first Aflasafe for Africa conference was held in Arusha, Tanzania, on 4-5 November. It brought together M&D partners to report their progress commercializing Aflasafe, exchange experiences and lessons learned in the course of doing business, build the capacity of M&D partners on new developments in Aflasafe technology and production, and forge connections between M&D partners, regulators, suppliers of manufacturing equipment and consumables, and aflatoxin-conscious commodity buyers.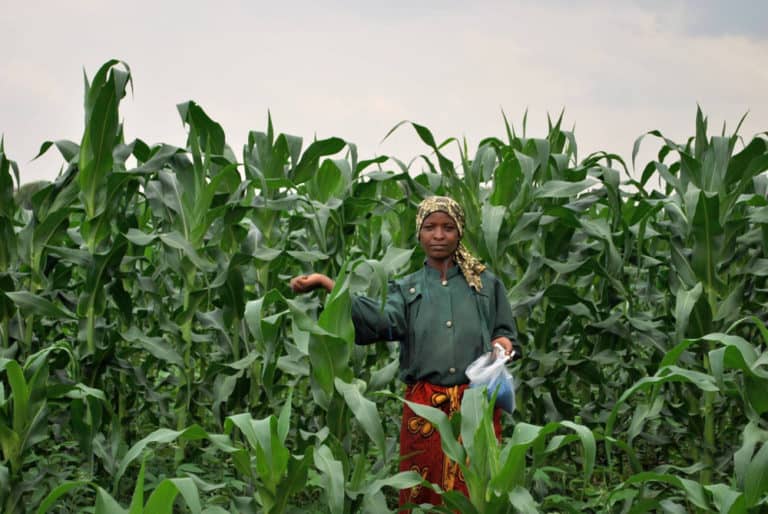 Selected peer-reviewed articles
Featured article: Biological control of aflatoxins in Africa: current status and potential challenges in the face of climate change (2016)
"Ground-Truthing" efficacy of biological control for aflatoxin mitigation in farmers' fields in Nigeria: From field trials to commercial usage, a 10-Year study (2019)
The atoxigenic biocontrol product Aflasafe SN01 is a valuable tool to mitigate aflatoxin contamination of both maize and groundnut cultivated in Senegal (2019)
Aflatoxin in chili peppers in Nigeria: Extent of contamination and control using atoxigenic Aspergillus flavus genotypes as biocontrol agents (2019)
Potential of atoxigenic Aspergillus flavus vegetative compatibility groups associated with maize and groundnut in Ghana as biocontrol agents for aflatoxin management (2019)
Commercial products promoting plant health in African agriculture (2019)
Aflatoxin awareness and Aflasafe adoption potential of Nigerian smallholder maize farmers (2018)
Can markets support smallholder adoption of a food safety technology? Aflasafe in Kenya (2018)
Willingness to pay of Nigerian poultry producers and feed millers for aflatoxin‐safe maize (2017)
Environmental distribution and genetic diversity of vegetative compatibility groups determine biocontrol strategies to mitigate aflatoxin contamination of maize by Aspergillus flavus (2015)
Distribution and toxigenicity of Aspergillus species isolated from maize kernels from three agro-ecological zones in Nigeria (2008)
Evaluation of atoxigenic isolates of Aspergillus flavus as potential biocontrol agents for aflatoxin in maize (2008)
Further resources
AgResults Nigeria Aflasafe policy brief
Status of Aflasafe commercialization in Africa
Header photo: A farmer broadcasts Aflasafe in maize field to control aflatoxin. Photo by Aflasafe/IITA.