Updates from Accelerated Breeding: 2023
From

CGIAR Initiative on Accelerated Breeding

Published on

30.05.23

Impact Area
Funders

Australia, Bill and Melinda Gates Foundation, Germany, United Kingdom, United States of America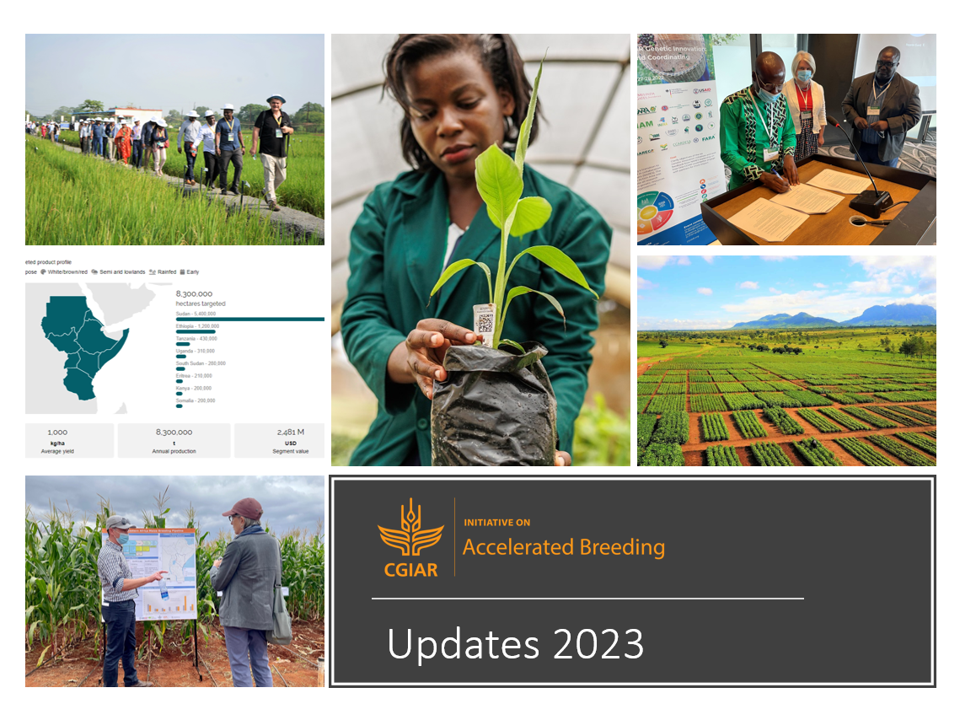 Updates from Accelerated Breeding: May 2023
After a year of transition and foundation setting – and important progress – 2023 has already seen some key steps and milestones in the Accelerated Breeding Initiative's push toward greater impact from breeding. We aim to share these updates with you more regularly – so this edition may be a longer read than future versions. But please take a scan so you understand the Initiative's progress. If you have questions, we look forward to hearing from you. We thank partners for all your collaboration and hard work.
Key updates from the first few months of 2023:
Initiative level: 
Technical Report 2022:

Our annual technical report is now available

online here

(or

PDF

). It details our shared progress – including a

Key Results Story

on breeding's "cultural transformation." We thank partners for all their work putting together the reporting data. We also had nearly 20 submissions for Key Result Stories. We used several as examples in the report, and will develop other communications material to get the word out about your impressive breeding achievements. See all

Initiative

reports here.

ABI strategy meeting:

Accelerated Breeding work package leads held an

in-person planning meeting

in March in Mexico. The team strategized on how to better collaborate across CGIAR teams, improve support for breeding programs, and fine-tune how we align and communicate across Work Packages. Stay tuned for updates and new ideas.

Crops to End Hunger grants:

We thank everyone for their excellent proposal submissions. Eleven projects have been selected and are in the subgrant approval process. Details will come soon. Grants will support the modernization efforts of CGIAR-NARES breeding networks, including the same results targeted as part of the Accelerated Breeding work plan.

3rd African Plant Breeders Association (APBA) Conference:

Accelerated Breeding is hoping partners will have a big presence at the

October event in Morocco

. Submit your abstract or poster to have the chance to present. We will also see many of you the previous week in Morocco at the

CGIAR Genetic Innovation Forum

.

Africa launch events:

Accelerated Breeding contributed to CGIAR Initiative launch events in

Zambia

and Uganda. Working with NARES and CGIAR Centers in countries across Africa is core to our mission of delivering better varieties, faster to smallholder farmers. For more on our work in Uganda, check out

this brochure

, and a

new article

on genetic gain advances in Ugandan maize.
Work Package 1-ReFOCUS:
Meeting farmers' needs, based on Market Intelligence insights (Peter Coaldrake)
Breeding Portal:

has been developed and goes live May 29, 2023. All market segment data, TPPs and Breeding Pipeline information has been loaded into the Breeding ProtalBPDC. Over the next month all data will be validated and updated.

Seed Product Market Segment Database

(

SPMS Database

) has just

launched

. Built off of Excellence in Breeding (EiB)'s major

data gathering and analysis efforts

, it will allow breeders, leadership, donors and others to explore and visualize market segment data from across CGIAR's focus regions. The data has been passed to Market Intelligence and Accelerated Breeding so we can make better decisions and sharper investments for CGIAR breeding. Explore by crop, region and more

here

.

Target Produce Profiles (TPPs):

We have supported partners to create V2.0 of Target Product Profiles for most market segments. These will be vital to guiding breeding decisions. Traits in the TPP's are being cross-checked with traits in the crop trait ontology files.

Alignment of breeding pipelines to market segments:

is being reviewed.
Work Package 2-ReORGANIZE:
Organizing breeding activities and teams to best drive breeding outcomes (Sarah Hearne).
ReORGANIZE working groups, representing multiple commodities, geographies and centers have made progress on: 
Stage Plans:

We developed a coherent and consistent product development stage plan (a feature of the breeding process model), adopting common terminology and stage definition. The plan enables definition of inputs and outputs of each stage including mapping of human resources. Stages facilitate the formulation of consistent targets, inputs and hand over criteria or stop/go points. This plan has been endorsed by breeding program leads and GI Senior Directors to be used by Centers and crops. We are moving forwards with breeding programs to fully implement the product development stage plan. Adoption of this plan underpins the definition and adoption of other elements of the ReOrganize workplan which are now the focus of 2023.

Mapping of skills

: Building out from the stage plan we are beginning to develop the templates needed to document the roles (people and skills) involved per stage of breeding within each breeding program/pipeline. We seek to start documenting this from the third quarter of the year. The working group focusing on this is led by Sarah Hearne.

Stage Gates:

The stage gate team is beginning to assemble the templates and tools needed to describe and define scope, purpose, process, decisions and stakeholders at the common stage gates defined in the product development stage plan. This working group is led by Gaby Mbanjo.

RACI and decision makingI:

Defined

RACI

and decision-making processes provide clarity, transparency, empowers teams, and democratizes work across disciplines. Building from skills-mapping and stage gate definition, we will implement work with teams to define stage level RACI for their programs and draft core stage gate decision making processes using a common framework.  This working group is led by Sarah Hearne and Gaby Mbanjo

KPIs:

We are forging forward with a working group focusing on developing a prioritized, common set of KPIs that can be used to set program and pipeline-specific targets for process and personnel effectiveness and improvement at critical points in the product development process. This team is targeting a limited number of meaningful and impactful KPIs that can be implemented by breeding programs within 2023-2024. The working group is led by Arlo Thompson, building on a higher-level cross-GI KPI design framework developed by an Accelerated Breeding-Breeding Resources team, which includes Arlo and Sarah Hearne from ReOrganize.
Work Package 3-TRANSFORM:
Building inclusive, impactful CGIAR-NARES-SME breeding networks (Bish Das)
Building networks:

Thirty-six crop-x-region CGIAR-NARES breeding networks have been defined through Transform. These networks are now being supported to define Level 1 and Level 2 members based on crop area, income level and national interests in order to prioritize resource allocation and effort most effectively.

Bottom up approach to priority setting:

Transform is piloting a process through which network member countries drive and own the identification of breeding priorities. Product design teams consisting of a wide range of national stakeholders are being organized for maize, groundnut, sorghum and millet networks in SSA and results of these meetings are being used to define national Target Product Profiles. These are then aggregated up to define regional priorities which the CGIAR responds to depending on network agreed priorities.   

Current state assessment:

We have developed a process through which network member breeding programs and infrastructure are peer reviewed in collaboration with the Breeding Resources Initiative. Results of the reviews are being used to develop customized breeding modernization plans that are being used to direct network investment in capacity development. The current state assessment of programs is also being used to identify partners with breeding capacity who can assume larger breeding responsibility within networks.  

Developed key templates / guidelines

, now available to coordinators: Prioritization criteria, Program assessment template (high level and detailed), Station assessment template, Improvement plan template, Product design team composition and meeting agenda.

100% of DLC crops, maize, potato:

Seven key CGIAR crops including sorghum, millet, groundnut, chickpea, pigeonpea, maize and potato have adopted the TRANSFORM process.

TRANSFORM workshops:

have been held in South Asia and East and Southern Africa in collaboration with CGIAR centers to inform and promote the revised method to developing effective breeding networks.  

Workplan support:

The team is now going through intensive 1-1 follow ups with CG-NARES crop x region breeding networks with a focus on SSA to ensure understanding of workplans, network partners, prioritization file etc.

Costing tools:

A fundamental gap in the effective running of collaborative breeding networks has been the lack of data on operational costs which has prevented effective resource allocation and realistic budgeting. Transform has been leading the deployment of the University of Queensland

costing tool

to systematically capture this information from CGIAR and NARES breeding programs. A workshop in Ibadan in May will focus on costing programs in IITA, AfricaRice and regional NARES partners.
Work Package 4-DISCOVER:
Driving & improving trait discovery & deployment (Sarah Hearne)
Trait value:

We are continuing the efforts to estimate the value of traits investments. We have taken a segmented approach to determining values (agreed with Market Intelligence and ReFOCUS), focusing on traits influencing yield and implementing a standardized and documented assessment of value. Currently we are mapping the traits detailed in ~350 active TD&D projects to Target Product Profiles in order to provide Beta estimates of value and return on investment with colleagues from Market Intelligence. We hope to present the preliminary findings of this exercise for critique at the end of Q2. This work is led from the Accelerated Breeding side by Sarah Hearne.

Costing:

Defining accurate costs of TD&D is key to developing appropriate estimates of ROI of trait work. From Q3 of 2023 we will work with colleagues from Transform using the UQ costing tool to define costs for a pilot set of TD&D projects. This work is led by Sarah Hearne.

TD&D practices:

A new effort to document current TD&D approaches has been launched. Building on work initiated by Mike Olsen, utilizing tools developed by EiB, we will begin efforts to document and define TD&D schemes employed within the active project portfolio. This work is led by Morag Ferguson.

Optimal practices:

Building from understanding of TD&D schemes and engagements with the quantitative genetics team of Accelerate, we will later in 2023 begin to define desired and "don't do" practices guided by genetics principles, TD&D community experience, and understandings of TD&D logistics. The focus of this work in 2023 will be simply inherited traits, moving to more complex modes of inheritance in 2024. This work is led by Morag Ferguson.
Work Package 5-ACCELERATE:
Optimizing breeding pipelines to accelerate rate of genetic gain (Dorcus Gemenet)
Team structure changes:

Dorcus Gemenet now serves as ACCELERATE interim lead and is the current optimization/quantitative genetics (QG) lead. A huge thank you to former EiB Module 2 'Breeding Program Optimization' Lead Eduardo Covarrubias-Pazaran, who moved on to IRRI. He set up a strong structure and a stellar team. Also thank you to Bhoja Basnet who filled the interim role in 2022 and still fills vital roles within the team. And Marlee Labro, who has just left for another opportunity, for the excellent work as a QG specialist, especially with the roots, tubers and banana (RTB) teams. Recruitment is ongoing to ensure that the crop teams continue getting ACCELERATE support.

Support team:

Bhoja Basnet and Bodo Trognitz provide non-quantitative genetics support and have been working with teams to ensure operational use of data management systems, reallocation of resources for optimization, and problem-solving. The QG team includes: Christian Werner (ABI); Eduardo Covarrubias-Pazaran (IRRI); Keith Gardner (CIMMYT) and Dorcus Gemenet (ABI); with a few new recruitments in the pipeline. This group has been supporting breeding teams by interpreting QG concepts into applied breeding, and building capacity. The team will work closely with all the Biometrics teams to implement state-of-the-art data quality standards and analytical pipelines, as well as ABI-TRANSFORM to support CGIAR-NARES breeding networks

ACCELERATE crop contacts:

are now supporting ACCELERATE workplans for each crop by: acting as a focal point for the ACCELERATE support team, supporting development and leading implementation of the annual work plan, working with ABI-TRANSFORM to ensure efficient CGIAR-NARES partnerships, coordinating annual reporting and more.

Summary of ACCELERATE outputs by crop breeding teams in 2022:

Genomics-supported recurrent selection:

was implemented in 35% of all breeding pipelines, reducing cycle time in cereals, common beans, root and tuber crops to an average of 45 months, with further scope for improvement

Breeding schemes were optimized:

in 11 crops based on principles of quantitative genetics and stochastic simulation.

Fourteen crops:

reviewed and/or altered selection intensities to better align with Target Product Profiles. 

Ten crops reported progress:

in improving variety identification schemes based on more accurate phenotyping and GxE analyses, with four crops using large-scale evaluations at 30 to over 400 locations to capture candidate variety performance and gender-disaggregated farmer feedback. 

Each breeding pipeline assessed:

and reported its rate of genetic gain, using standardized approaches, with statistically significant, positive realized genetic gains being reported in 55% of all pipelines. 

Crop-specific improvement plans:

were documented in a 'one-site-of-truth' project management center. Important results and insights were published through 86 peer-reviewed publications and book chapters linked to this work package.
Also see:
Recent news, events, resources:
—–
We would like to thank all funders who support breeding research through their contributions to the CGIAR Trust Fund and all funders and partners who have supported the work of Excellence in Breeding, particularly support from Bill and Melinda Gates Foundation.