Connect Rural Areas with Digital Innovations to Unlock Climate Resilience for Hundreds of Millions of Farmers
From

CGIAR Initiative on Digital Innovation

Published on

21.09.22

Impact Area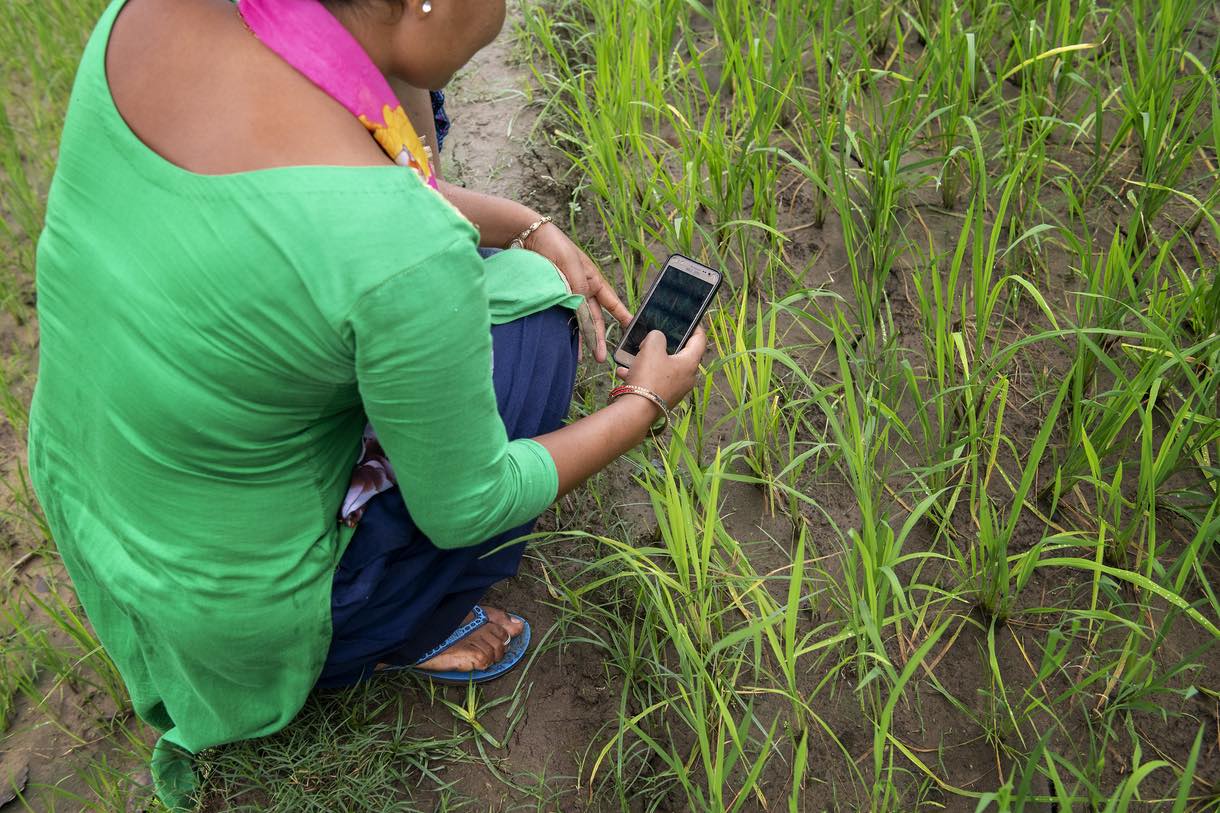 Research shows that digital innovations can increase small-scale farmers' incomes, boost the adoption of better practices, and increase resilience to climate shocks while reducing the gender gap and managing food system risks. However, these benefits are not universal. Over 600 million people and 40 percent of small farms are still not covered by mobile internet, especially in those countries most dependent on agricultural production. Across low- and middle-income countries, women are 7 percent less likely than men to own a mobile phone and 15 percent less likely to use mobile internet.
A new CGIAR Research Initiative, Digital Innovation, has been launched to research pathways to bridge this digital divide, improve the quality of information systems, and strengthen local capacities to realize the potential of digital technologies.
How digital innovation will transform agrifood systems in low-income countries
In advanced economies, agriculture is increasingly a highly digitized and information-intensive industry. Small-scale food producers in sub-Saharan Africa, Asia, and Latin America can also benefit from these approaches.
For example, there has been a rapid increase in the number of digital agricultural services in low- and middle-income countries, from 53 services in 2009 to 713 in 2019, according to one report. Studies in sub-Saharan Africa have found that producers who adopt these services can increase incomes by 20 to 40 percent, while digital extension systems can be more effective than conventional approaches.
Women currently face a digital gender gap, with less access to mobile phones and extension information, which widens as technologies become more expensive and sophisticated. Addressing this gap by providing women with mobile phones and targeted information not only increases their uptake of innovations but also that of the entire household, as shown by one study in Tunisia. In this way, internet access can open the door to adopting new crop varieties and improved practices for a wider range of farmers.
Climate change is increasing the urgency to digitalize. Extreme weather events put farmers' income at risk, and this unpredictability cascades through the value chain, resulting in food price spikes that harm the poorest most.
Digital innovations can help in several ways. Localized weather information delivered to farmers' phones can help them decide when to plant, invest in improved varieties, or schedule irrigation services. When losses do occur, weather data or satellite images can be used to calculate insurance payouts that reduce the risk of investing in farms.
Low-cost remote sensing, communications technologies, and more accessible analytics software mean it is now possible to monitor food, water, and land systems in real-time. This can help value chain actors detect potential issues such as high temperatures to prepare for food system shocks such as droughts or floods.
Early warning systems have already reduced the number of human casualties caused by floods by 45 percent, and the number of people affected by 24 percent. Despite this, only 44 percent of Africa's population is covered by weather early warning systems, compared to 70 percent in Asia and 60 percent in Latin America.
Finally, it is important to strengthen the connection between information, modeling, and analytics systems to make the right decisions from data. In Zambia in 2016, when policymakers expecting drought enacted an export ban to protect consumers, but in fact, the late onset of rains increased yields, the export ban led to a crash in local maize prices that left sellers in poverty.
Bridging the digital divide
For all the benefits of digital information, significant challenges remain. The cost of connecting all of Africa to the internet is estimated to be US$100 billion, with rural areas up to five times more expensive to connect while generating a tenth of the revenue of urban areas. This means policymakers must step up to create the right incentives for private investment to reduce the divide.
A better understanding of the impact of data across agrifood systems can help make the case. For example, studies show reliable climate data provide a 10 to 1 return on investment, with potential global benefits of US$30 billion in increased productivity and US$2 billion in reduced losses. Techniques such as crowdsourcing can also enrich the data available.
Digital innovations must also be designed responsibly, ensuring the management of sensitive data and avoiding adverse impacts on women or other vulnerable groups. This can be achieved by co-designing innovations with end-users, adhering to the digital development principles, while building their capacity to make use of this information.
How CGIAR is contributing
Digital Innovation will work across 13 countries in Africa, Asia, and Latin America to connect knowledge creators and innovators with farmers, implementers, policymakers, and food system actors. Together, they will research pathways for digital innovations to stimulate the inclusive and sustainable transformation of food, land, and water systems. This includes investments that policymakers could make to close the digital divide, information-delivery systems that allow more people to take action against predicted risks, and ways for partner organizations and marginalized communities to enhance digital capabilities, access resources, and opportunities.
Digital Innovation will work toward five objectives:
Create an enabling environment for digital ecosystems by developing policies, investment plans, and innovation support systems;

Bridge the gender divide by tracking digital inclusion and identifying solutions to empower women and vulnerable groups;

Develop a next-generation decision support system for food, water, and land resource management;

Create platforms to provide real-time monitoring and recommendations for policymakers and value chain actors to avoid food system shocks;

Create spaces to exchange knowledge and learning, and build local capacity to make use of digital innovation.
With more than 70 researchers from multidisciplinary research backgrounds, including data scientists specializing in climate, nutrition, remote sensing, information science, social science, and development economics, Digital Innovation is best positioned to achieve these objectives and deliver digital impacts.
Partnerships are essential to the success of CGIAR's impact, and this is particularly the case for the Initiative's work. Currently (as of September 2022), there are some 30 demand-driven projects being developed and launched, including a suite of real-time decision support tools based on internet-connected sensors and AI–based analytics, activities to unlock the potential of underutilized datasets and support digital extension services, and impact assessment studies on digital infrastructure and services to generate evidence for policymakers and investors.
While the Initiative's project portfolio is taking shape, the door for developing collaborative research projects remains firmly wide open. Do not hesitate to contact the Initiative if you have any joint research ideas or questions.
Authored by Jawoo Koo (IFPRI) (j.koo@cgiar.org) and Andrea Gardeazabal (CIMMYT) (a.gardeazabal@cgiar.org), lead and co-lead of the Digital Innovation Initiative.
Header photo by C. De Bode/CGIAR