Agroecology is gaining momentum
From

CGIAR Initiative on Agroecology

Published on

14.09.22

Impact Area
The triple threat of climate change, Covid, and conflict is revealing the inherent fragility of food systems worldwide along with their negative impacts on natural resources as well as their prominent role in worsening climate change and social inequities. Agroecology shows enormous potential for helping address these crises, and the time has come for more concerted action to realize its possibilities. This was a central message of the recent "set off" webinar of the CGIAR initiative "Transformational Agroecology across Food, Land, and Water Systems," which brought together leaders, funders and partners. Together, they pointed a way forward for agroecology, in the hope of seeing this approach expand to an unprecedented scale.

Agroecology is by no means new, and plenty of cases illustrate local success in transitioning to this approach, noted Marion Guillou, a member of the Alliance Strategy and Program Advisory Council (ASPAC) with the Alliance of Bioversity and CIAT and member of the Steering Committee of The Transformative Partnership Platform on Agroecology. But so far, "most agroecological innovation [has] focused more on technical solutions [and] not much on the socio-political dimensions beyond the farm level that are needed to positively affect food systems," said Marcela Quintero, leader of the CGIAR Agroecology Initiative. Thus, a key challenge is to build new momentum behind the global agroecology movement, drawing on the diverse sources of strength that webinar participants outlined.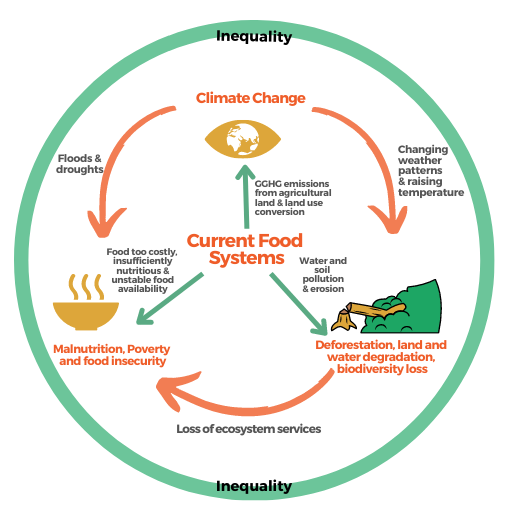 A new initiative seizes the moment
One source of strength is the new CGIAR initiative itself, which aims to generate scientific evidence on the potential of agroecology. During the preparation of CGIAR's 2030 Research and Innovation Strategy, a muti-disciplinary team of donors and partners brought together their knowledge and experience of agroecology, leading to the start of the new initiative in early 2022. "Today, we are proud to say that the team is composed by a huge talent pool involving more than 100 researchers from eight CGIAR centers along with partners in seven countries: Burkina Faso, India, Kenya, Laos, Peru, Tunisia, and Zimbabwe," said Matthew McCartney, Research Group Leader on Sustainable Water Infrastructure and Ecosystems at the International Water Management Institute (IWMI), and co-leader of the initiative.
Together they are working in territories referred to as agroecological living landscapes (ALL) to design, test, and adapt suitable technological and institutional innovations, while linking this work to markets and investments as well as to policies. The initiative aims to involve 250 national and international researchers, 7,000 farmers, and 100 policymakers and private sector companies, with the expectation of benefitting 2.2 million farmers.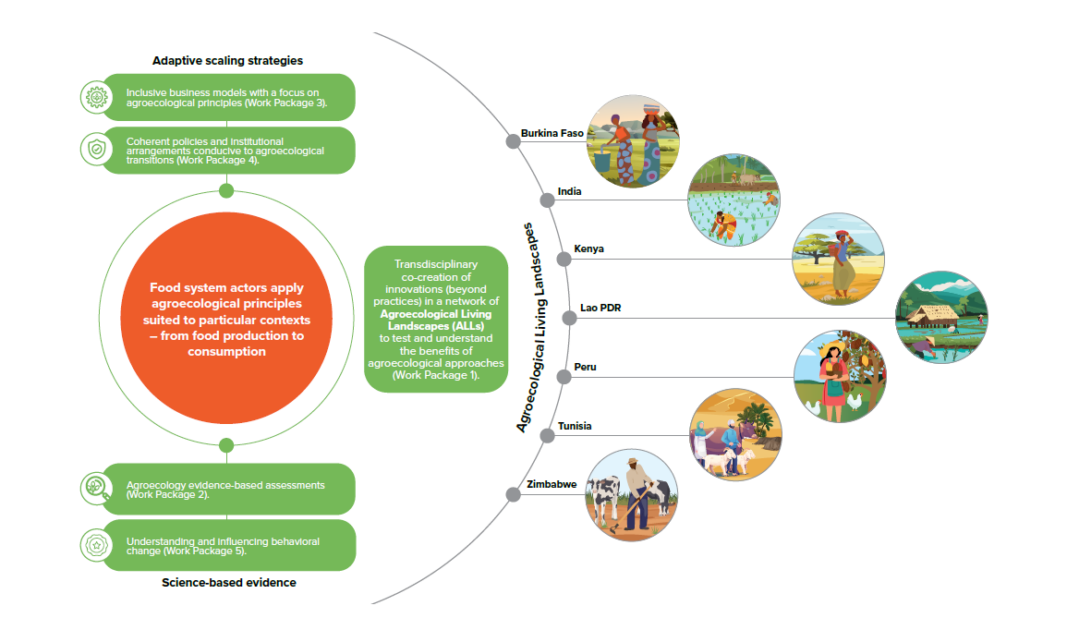 In Zimbabwe, for example, where farm inputs are very expensive and climate change impacts are severe, the CGIAR initiative will build on the agroecological policy framework already in place and on several projects currently promoting agroecological principles. With coordination provided by the International Maize and Wheat Improvement Center (CIMMYT), the initiative will help build agroecological living landscapes in two territories with contrasting conditions and landscapes. In a video prepared for the webinar by the CIMMYT team, farmers and partners in these territories shared their expectations about diversifying agricultural production through a mixed farming approach and about enhancing their capacity to adapt to climate change. BioHub Trust, a partner in the initiative, welcomes an approach in which farmers occupy center stage, identifying objectives and options with support from extensionists.
A vibrant international community
A second source of strength is the vibrant international community that has emerged in support of the agroecology movement. Several donors who are active in this community closely support the CGIAR initiative and ensure that it is linked to other important work on agroecology.
 The European Union (EU), France, and Switzerland are among the most prominent supporters of agroecological research and development. The EU, through the Green Deal and Farm to Folk Strategy, is strongly committed to food systems transformation, with increasing emphasis on agroecology. "In the past, we have invested heavily in the Green Revolution, and little in agroecology," said Guy Faure, senior policy officer in charge of research and innovation with the European Commission's Directorate General International Partnership. "Now, we need a research agenda that looks into genetic, biological, mechanical and digital solutions that mobilize traditional knowledge and international science."
Like the EU, France is among the 37 countries and 70 organizations that are members of the Agroecology Coalition, which was created at the World Food Summit last year to accelerate food system transformation through agroecology. The Alliance of Bioversity International and CIAT will host the Coalition's Secretariat. In the recent Dossier Agropolis, coordinated by France and CGIAR, 200 papers discussed agroecology. "Agroecology addresses questions that have been overlooked by conventional approaches, like soil biodiversity, ecosystem functioning, or the optimization functions at plot and landscape level," said Bernard Hubert, chair of the French Committee for International Agricultural Research.
The CGIAR Initiative is also linked with the Transformative Partnership Platform (TPP) on Agroecology, which convenes stakeholders from civil society, academia, and research. "The TPP can be considered as a coalition of the willing, a science-policy interface, and an active contributor to efforts to create an agroecological research and development movement," said Fergus Sinclair, chief scientist at Center for International Forestry Research (CIFOR) and World Agroforestry (ICRAF) and also co-convener of the TPP (see Policies for Agroecology).
Partnerships beyond the status quo
A third source of strength for building momentum behind agroecology consists of partnerships for implementation, scaling and impact. The CGIAR initiative involves researchers from eight international centers, working closely with the French Agricultural Research and Cooperation Organization (CIRAD) and CIFOR-ICRAF as well as many national and local partners. Among the partners for scaling and impact who are especially eager to share knowledge and co-create agroecological innovations are the German International Cooperation (GIZ), Switzerland's Biovision Foundation, and various national and subnational policymakers. 
The Swiss Agency for Development and Cooperation (SDC) considers the CGIAR initiative to be an important opportunity for building innovative partnerships. "Agroecology is more than a science or a series of practices but a movement that wants to bring about equitable and concrete solutions," said Michel Evequoz, deputy regional director at the Swiss Cooperation Office Great Lakes in Kigali, Rwanda. In this spirit, the Agroecology Initiative has resulted from extensive dialogue with partners, including the private sector, national research centers, farmer cooperatives, and international organizations.
Taking agroecology transitions to scale
The extensive national experience already gained with agroecology constitutes a fourth, critical source of strength. "What we need now is to scale what agroecology approaches work and see how they can be integrated into the strategies of the public and private sector, at national and local levels, and to integrate technological, institutional innovations and behavioral change strategies," said Gabriela Wiederkehr-Guerra, program officer and country lead for Peru. Work underway in three countries illustrates especially well how research can help take agroecology transitions to scale.
Natural farming in India: The Natural Farming Program in India's Andhra Pradesh State promotes chemical-free, diversified farming systems with one million farmers, of whom one thousand have become farmer-researchers. G. Muralidhar, co-lead and senior consultant at Rythu Sadhikara Samstha (RySS), cited several issues that the CGIAR Initiative can help address, including policy development, program expansion to other landscapes, and improvement of mixed crop-livestock farming systems. The Program also needs to address the agency of women and vulnerable communities, while connecting farmers more profitably with markets outside their local areas and enhancing their access to technical innovations.
The need to enhance the access of producers to the technical innovations through agricultural extension and advisory services was at the center of the comments from webinar participants. In this sense, the partnership with GIZ has been very timely to start building linkages with some of the program's agroecology initiatives
Green growth in Laos: The national government has promoted green and equitable economic growth since 2016, with emphasis on agroecology and sustainable intensification of agriculture. The country's Green Growth strategy aims to strike a balance between economic expansion, environmental protection and social development. Phonevilay Sinavong, head of project management and consolidation with the National Agriculture and Forestry Research Institute (NAFRI), noted that during the Covid-19 pandemic communities benefitting from the Green Growth strategy saw improvement in their resilience and food security. NAFPRI will work with the CGIAR initiative to build evidence that offers the government a sound basis for developing policies that foster agroecology.
National agroecology strategy in Kenya: The CGIAR initiative is well along in collaborating with the Biovision Foundation to pilot methods in Kenya for mainstreaming agroecology in policies and business models. "We are working on all the transdisciplinary fields that the initiative is addressing to make agroecology strategies a reality," said Matthias Geck, program manager for policy and advocacy at Biovision. The initiative and Biovision are working with the African Inter-sectoral Forum on Agrobiodiversity and Agroecology (ISFAA) which cuurently develops a road map for the formulation of a national agroecology strategy. Martin Oulu, co-lead of ISFAA, cites four advantages that the strategy will offer: (1) better coordination of the agroecology transition, (2) integration of agroecological principles, practices, and policies with other sectors, like health, and education, (3) stronger incentives for behavioral change, and (4) mobilization of public and private finance in support of agroecology initiatives.
Taken together, the new Agroecology Initiative, its active community of supporters, its broad and inclusive partnerships, and the diverse body of national experiences provide a much-needed boost for the agroecology movement, as it seeks to transform food systems in the face of growing crises.
Stay in touch with the Initiative