Honduras Launches AgriLAC Resiliente: a Regional Initiative to Strengthen Food Systems in the Region
From
Published on

30.06.22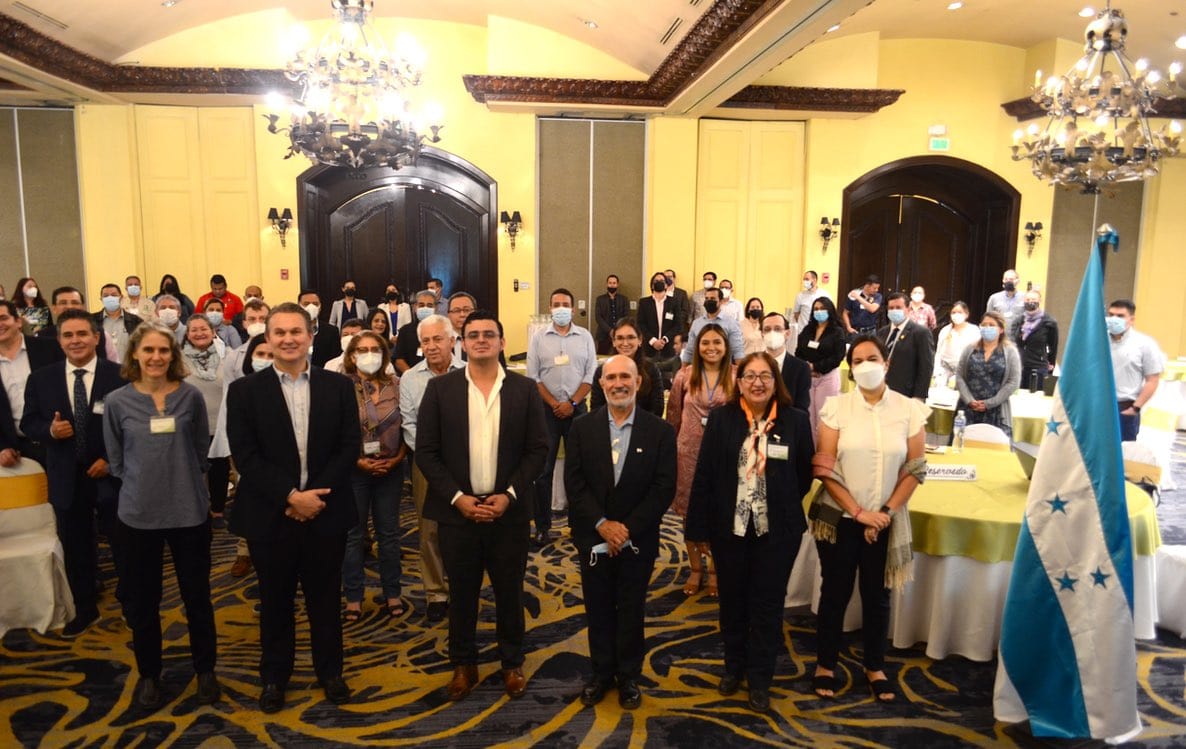 AgriLAC

Resiliente

is a CGIAR Regional Initiative that seeks to improve the livelihoods of producers in Latin America and the Caribbean, with the support of national governments, the private sector, civil society, and regional and global donors and partners

.

AgriLAC

will

also

benefit

farmers

in Colombia, El Salvador, Honduras,

Mexico

, Nicaragua

,

and

Peru

.
Tegucigalpa, June 30, 2022 – Latin America and the Caribbean possess the largest reserve of arable land on the planet, 30% of renewable water, 46% of tropical forests, and 30% of biodiversity. These resources represent an important contribution to the world's food supply and other ecosystem services. However, climate change and natural disasters, exacerbated by COVID-19, have deteriorated economic and food security, destabilizing communities and causing unprecedented migration, impacting not only the region but the entire world.
Against this regional backdrop, AgriLAC Resiliente was created, which is a CGIAR Initiative that seeks to increase the resilience, sustainability, and competitiveness of the region's agri-food systems and actors. It aims to equip them to meet urgent food security needs, mitigate climate hazards, stabilize communities vulnerable to conflict, and reduce forced migration.  Honduras is the second country where this Initiative has been presented, which will also impact farmers in Colombia, El Salvador, Guatemala, Mexico, Nicaragua, and Peru, and will be supported by national governments, the private sector, civil society and regional and global donors and partners.  
Representatives from the Government of Honduras, NGOs, international cooperation programs, the private sector, producer associations, and other key stakeholders from the host country, along with leaders from CGIAR Research Centers supporting this Initiative such as the Alliance of Bioversity International and the International Center for Tropical Agriculture (CIAT), the International Maize and Wheat Improvement Center (CIMMYT), the International Potato Center (CIP), and the International Food Policy Research Institute (IFPRI) consolidated the partnership by presenting the initiative and developing a regional roadmap.
"The launch of the CGIAR AgriLAC Resiliente initiative in Honduras is part of our consultation process with our stakeholders and partners at country and regional level. It will ensure our implementation plans and actions align with the needs and demands in the field. We are certainly looking forward to working with Honduras towards strengthening its agri-food systems through the research and innovation that CGIAR brings to the table in the current complex world context", said Joaquín Lozano, CGIAR's Regional Director for Latin America and the Caribbean.
This Initiative is one of several CGIAR Initiatives in Latin America and consists of five research components:
Climate and nutrition that seeks to use collaborative innovations for climate resilient and nutritious agri-food systems;

Digital agriculture through the use of digital and inclusive tools for the creation of actionable knowledge;

Low-emission competitiveness, focused on agroecosystems, landscapes and value chains that are low in sustainable emissions;

Innovation and scaling with the Innova-Hubs network for agri-food innovations and scaling;

Science for timely decision making and establishment of policies, institutions and investments for resilient, competitive and low-emission agri-food systems.
"These workshops allow us to identify the real problems in the countries in which AgriLAC will work and to determine what type of innovations are needed to solve the problems in a coordinated manner. The work with local partners will be key in order to make an impact, especially for small producers in Honduras and the region," said Carolina González, Leader of the Initiative from the Alliance of Bioversity International and CIAT.
Bram Govaerts, Director General of CIMMYT, stated: "In Honduras, CIMMYT has maintained close collaboration with the Directorate General of Agricultural Science and Technology (DICTA) in research on improved maize varieties. As a result of this work, in the last 15 years, DICTA has released 10 open-pollinated varieties that have been distributed by government programs. It is estimated that the impact generated annually benefits around 5,000 smallholder farmers and their families in rural Honduras. Results like these motivate us to find in AgriLAC Resiliente a platform to achieve more and better impacts like this in alliance with national and international centers and partners, always in favor of Central America."
José Angel Acosta, Deputy Secretary for Livestock at the Secretariat for Agriculture and Livestock of Honduras, said that "All actions that ensure sustainability, that are related to environmental and agri-food issues, promote and ensure life. As a Government, we understand that we cannot be indifferent to real life situations, especially in Honduras. People are now conscious of all the dynamics of awareness, balance and mitigation and all aspects that have to do with sustainability, security, and food sovereignty. This will encourage commitment among communities, which is exactly what AgriLAC is promoting. Our government supports this program. We have an enormous responsibility and awareness".  
AgriLAC Resiliente was also launched in Guatemala, where national partners learned more about the Initiative and its role in achieving a resilient, sustainable, and competitive Latin America and the Caribbean, that will enable the region to achieve its Sustainable Development Goals.    
Other CGIAR Initiatives in Honduras
Under the general coordination of CGIAR, other Initiatives will also be carried out in Honduras in synergy with the global research themes. They are:
*** 
About CGIAR 
CGIAR is a global research partnership for a food-secure future, dedicated to transforming food, land, and water systems in a climate crisis. Its research is carried out by 13 CGIAR Centers/Alliances in close collaboration with hundreds of partners, including national and regional research institutes, civil society organizations, academia, development organizations and the private sector. www.cgiar.org 
We would like to thank all Funders who support this research through their contributions to the CGIAR Trust Fund. 
About the Alliance of Bioversity International and CIAT 
The Alliance of Bioversity International and the International Center for Tropical Agriculture (CIAT) delivers research-based solutions that address the global crises of malnutrition, climate change, biodiversity loss, and environmental degradation. The Alliance focuses on the nexus of agriculture, nutrition and environment. We work with local, national, and multinational partners across Africa, Asia, and Latin America and the Caribbean, and with the public and private sectors and civil society. With novel partnerships, the Alliance generates evidence and mainstreams innovations to transform food systems and landscapes so that they sustain the planet, drive prosperity, and nourish people in a climate crisis. 
The Alliance is a CGIAR Research Center. https://alliancebioversityciat.org  
About CIMMYT 
The International Maize and Wheat Improvement Center (CIMMYT) is an international nonprofit agricultural research and training organization that empowers farmers through science and innovation to nourish the world in the midst of a climate crisis. Applying high-quality science and strong partnerships, CIMMYT works toward a world with healthier, more prosperous people, freedom from global food crises, and more resilient agri-food systems. CIMMYT's research brings higher productivity and better profits to farmers, mitigates the effects of the climate crisis, and reduces the environmental impact of agriculture. 
CIMMYT is a CGIAR Research Center. https://www.cimmyt.org/es/ 
About CIP  
The International Potato Center (CIP) was founded in 1971 as a research-for-development organization with a focus on potato, sweetpotato and andean roots and tubers. It delivers innovative science-based solutions to enhance access to affordable nutritious food, foster inclusive sustainable business and employment growth, and drive the climate resilience of root and tuber agri-food systems. Headquartered in Lima, Peru, CIP has a research presence in more than 20 countries in Africa, Asia, and Latin America. 
CIP is a CGIAR Research Center. https://cipotato.org/es/ 
About IFPRI 
The International Food Policy Research Institute (IFPRI) provides research-based policy solutions to sustainably reduce poverty and end hunger and malnutrition in developing countries. IFPRI currently has more than 600 employees working in over 50 countries. Global, regional, and national food systems face major challenges and require fundamental transformations. IFPRI is focused on responding to these challenges through a multidisciplinary approach to reshape food systems so they work for all people sustainably.   
IFPRI is a CGIAR Research Center. www.ifpri.org
Header photo caption: More than 80 people from the government, private sector, civil society, donors, and researchers from CGIAR Centers in the region are participating in the AgriLAC Resiliente workshop in Tegucigalpa, the capital of Honduras, in Central America.